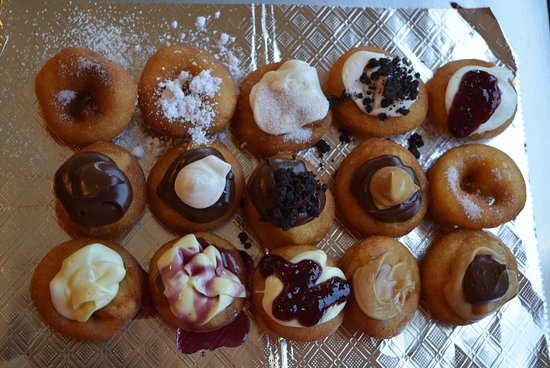 Photo Credit: Photo by Rileigh Glassman
Little Donuts Bring Big Flavor
If you're tired of your current regular donut shop or just want to try something new, allow me to introduce Bigfoot Little Donuts.This dainty donut shop specializes in mini donuts where everything is only $5.This makes trying out new flavors easier for the customers and also provides an inclusive experience.
The staff was friendly which made the atmosphere very welcoming when I walked inside. The inside was cabin style and it gave off a warm feeling. They had lots of bigfoot merchandise such as Tee-Shirts, mugs and hats. The unique decor was enjoyable and easy on the eyes. 
Sold by the dozen, the quaint donuts came in a plain white box with flavors that represented simple Southern flavors. The donuts are made to order so they are hot and fresh when served. When they glaze or top the donuts with one of their many options, it melts and adds a whole other dimension of delicious. For people who like more of a simple flavoring, I recommend the apple butter donuts. They are perfect for the fall season.
I really enjoyed the experience from the decorations to the donuts.These little donuts are by far the best donuts I have ever had. Even though they are not your traditional donut, they are still amazing. I recommend this place to anyone who wants to try something new and explore new types of donuts.