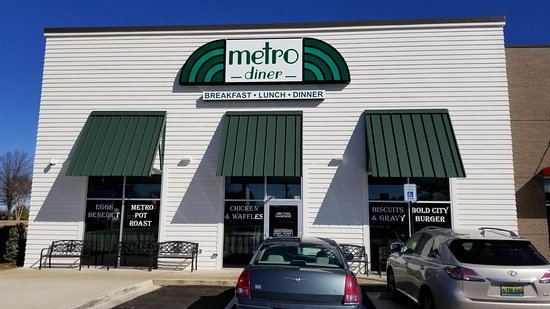 Photo by Amelia Stevens
Metro Diner Can Satisfy Any Craving
The Metro Diner, located both in Madison and Huntsville, has a homey feel with food for all types of feelings. Offering breakfast, lunch and dinner throughout the day to satisfy any needs or cravings.
Walking into the restaurant, I was seated almost immediately with my family even with the lunch rush. It took them a longer amount of time to come to ask about what we wanted to eat and drink. Once they came however, the waitress was very kind and quick to get our meals down and prepared for making.
The menu had many options for every person possible. For lighter options, they had trendy foods such as avocado toast, soups and salads. For heavier meals, they had breakfast meals, burgers and sandwiches. I ended up ordering a croissant french toast as I was definitely in the mood for breakfast even at almost one o'clock. When I received the meal, I was very satisfied with the quantity. It came with four croissants, more than enough to satisfy my hunger. Once I dived in, I was in awe with the buttery taste. It was like nothing I tasted before, causing me to consume as much as I could in just minutes. The meal was filling, and I could only finish about half before I felt full.
The environment was pleasant, decorated with vintage appeal. If you choose not to sit at a booth or table, they had a bar that definitely brought a vintage feeling to the entire area. Waiters also frequently came around to ask for refills and make sure everyone was happy.
Even with the long amount of time to finally order, I was very happy overall. The food definitely made up for the lack of service I originally experienced. All the staff continued to smile and genuinely cared about the satisfaction of every customer. I would definitely recommend it for any time of day, no matter what meal you are searching for.