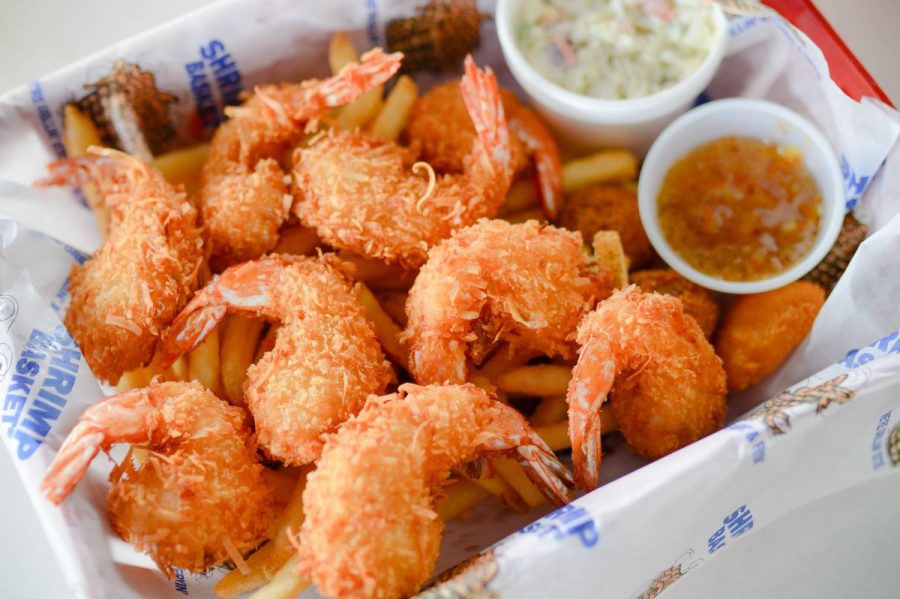 Photo Credit: Kate Irving
New Beached Theme Restaurant Opened in Madison Met With Great Reviews
With the closing of Ruby Tuesday's on Highway 72 in Madison, the Shrimp Basket was opened in its place. With many hoping to tryout the new ocean themed restaurant, people were happy to know when the restaurant was opened.
With the restaurant being the only one in town, people can expect to find semi-long lines and wait time. The waiting area inside the building is quite small, so it is fairly possible you will have to wait outside on a busy day. Even with the semi-long wait, manager and hostess try to seat people within the time limit they tell the customer when they put their name down for a table.
Servers can be seen in the restaurant constantly rushing and on their feet. Personally, I felt that all the waiters that were there helped make my experience something special whether it was by giving a quick refill on my drink or just coming by to make sure we didn't need anything. Waiter are also easy about owning up to mistakes that they make and correcting them as quickly as possible. When my waiter forgot an appetizer, he could be seen going quickly to input the order and also gave us frequent updates on the small food item. He also took the appetizer of the bill because of his mistake, which I myself found very nice of him. 
While the restaurant having a beach theme, people can expect many foods made with fresh seafood. Prices for each meal can be a slightly pricey but the quality and portions make up for it. The menu features many different foods for everyone to enjoy, including a few options that are shellfish free and appetizer for those who want a little extra something with their meal. After some great contemplation, I ended up ordering both fried pickles and two small crab cakes. While the fried pickles were a smaller portion than what I thought, I was still pleased with the flavor that they had. The crab cakes were also not disappointing and I enjoyed not getting the typical mostly breading like you would find at most restaurants. For my meal I chose to have a shrimp po bo, which came completely stuff with fried fish and a good helping of fries. After a decent wait, I was ready to try something that was made a bit different than what I was expecting. Within the first bite I took, I was completely impressed the taste. While most may feel like you could find the same quality po boy somewhere else in Madison or Huntsville, after the very many I have tried, I can say this is the best I have had in town. While the food wasn't my favorite part of the experience it is definitely tied in second with the decor. 
Even with the wait I experienced to be seated and get my food, I still enjoyed my time in the restaurant. This is a great place to come with family on a weekday or even on a Saturday or Sunday with friends to enjoy quality and some football being played on the various TVs. With a friendly atmosphere, really funny great waiters and amazing food, I will definitely make for trips to this new restaurant and hope to try something new every time I go.