A Different Kind of Cute and Cuddly
Hang on for a minute...we're trying to find some more stories you might like.
Whenever a person thinks of furry little animals, they think of cats, bunnies and hamsters, but when senior Michelle Strand thinks of furry little animals she thinks about her pet ferrets and chinchilla.

"When I was little my sister and I watched  a documentary about ferrets and ever since then my sister and I bothered my mom about them. One time we were standing in a pet store around the octagon ferret container. There was only two left there. One was a runt and my mom said "we can get them" so we got them," Michelle said.

Michelle had her ferrets since the sixth grade,but a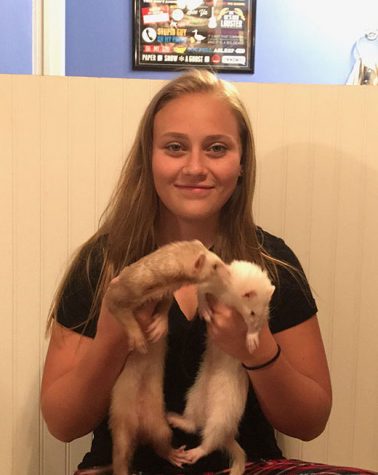 t one point she thought of trading her two ferrets for a chinchilla.
"One of my ferrets (Teddy) is very aggressive and he likes to bite. So for a long time we thought about giving them back and trading it for a chinchilla but when we went there the chinchilla was gone and I decided that it would be too hard to give my ferrets away so I kept both of my ferrets," Michelle said  

A few years later an opportunity came down the road for Michelle. A guy was giving away a chinchilla for free along with everything she needed to keep the animal. Michelle then asked her mom to get her.

"So I asked my mom and I was expecting to persuade her but she was like "yeah okay". So now I have both of them. My chinchilla is a girl and her name is Bijou and I've had her for two years. One of my ferrets name is Loki and the other is named Teddy," Michelle said.

The names are not indicative of the animals' personalities at all. Michelle mentions that Teddy does not have a "teddy bear" personality and is the more aggressive one out of her three rodents. He has bitten every single one of her friends.

"You can hold Teddy but he will get annoyed and try to bite you. I feel like he's bitten every one of friends. It's not too bad he doesn't draw blood normally. I guess Loki the nicer one. You can really get him exicted if you throw a blanket on him he will start bouncing around and chittering," Michelle said "But also he is very scared of the barroom and loud noise but Teddy doesn't care about that, he doesn't really care about snitching he just likes to take thing. Bijiou is just passive and chill."

Michelle's sister Katrina took Loki with her to college. Just like Teddy he does not match his name. Katrina says that she misses them but she's not attached to them like Michelle.

"My favorite thing that they do is when they get excited they hop around sideways and zoom across the room with arched backs. One of them (Teddy) also likes to steal stuffed animals and hide them under the dresser in his "burrow," Katrina said.

Michelle gives the ferrets food and water. She also lets them play around in her room for one or two hours. The animals are not house-trained which saves the headache of keeping animals inside. When Katrina was living at home, it was a different story.

"It wasn't very hard to take care of them but the most difficult part was trying to potty train them. They've taken to using corners of the room to do their business so we had to put plastic down because we couldn't break that habit," Katrina said.

Teddy and Loki live in a cage in Michelle's room while Bijou lives in her closet. They both are nocturnal animals. Since ferrets are carnivores, they do not interact with Bijiou or they will attack her. And Bijou will release her fur as a defense mechanism.

"The ferrets, they like open spaces to run around and they also like to take anything in your room. And carry it away and hide in in spots so I guess that's kind of difficult. But you have to have an open space for them to run around in and for as me it's my room, " Michael said. "And I had to build a little door for them so they wouldn't go into my bathroom. Sometimes I'll find pencils or anything that they took under my dresser or under my bed."

Michelle has jack and jill bathrooms and the ferrets always climb into her area. They built a little half door so the animals cannot go in there. It was an expensive move, but worth it because this is where Bijou has her fun.

"She also runs around in an open space but for her it has to be smaller and confined. Because she runs very fast and jumps very high. They're like hamster bunnies. They jump a lot. So she goes in the bathroom sink area because she can't open drawers or anything. I normally hang a towel so she doesn't jump over the half door because she can do that and it's very annoying. She can run around in my room, she is hard to catch," Michelle said

Chinchillas are a little more difficult to care for than the ferrets. They must be held a certain way and cannot get wet or their fur will mold. This is a different situation when it comes to bath time.

"Instead of giving them baths like the ferrets, you have to get a little container and fill it with dust for them and they roll in it and take dust baths. That should happen every other day. I gave her a dust bath it was in a big cupcake tin. So she rolled around in their and she slept in there and that was the first time and only time I've ever seen her sleep in my life," Michelle said.

Michelle can not stress enough about how soft Bijou is. Bijou got her name from a television show that Michelle watched when she was younger. In French  it means jewelry and posh and high class. Bijou almost did not end up with such a classy name.

"So I had the original thought of naming her cupcake then I thought it just did not fit her personality. And I thought about a little show that I watched. And there was little hamster in there that was very posh. So I was like this is Bijous who slept in a cupcake tin," Michelle said.

Michelle will probably get more rodents after college. She finds them interesting and weird to have.

"I really like rodents just to start that off. I love any kind of rodents but I think I like ferrets because of how weird they are. Just like chinchillas. You don't go around and everyone has a ferret. Or everybody has a chinchilla. They're just so fun, " Michelle said.