Students hear talk on dangers of alcohol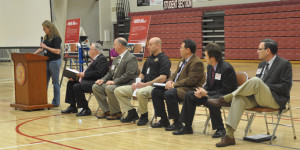 With prom around the corner, the administration arranged for the Alabama Alcoholic Beverage Control Board (ABC) to speak to the student body.
Five speakers spoke on a variety of topics relating to underage and binge drinking with the teen population. Statistics were read and the consequences of drinking were the center of the program.
"ABC enforces laws concerning underage drinking. People of the age 12-20 consume 11 percent of all the alcohol in the United States. People who drink under the age of 15 a better chance of becoming dependent to alcohol," Director of the ABC Board, Mac Gipson said.
School Resource Officer Jonah Wilson explained the requirements and consequences of drunk driving. According to Wilson one of the consequences of driving under the influence is having your driver's license suspended.
"Anybody under the age of 21 cannot have an alcohol percentage of 0.02 or higher. Driving under the influence can lead to you going to jail. After you go to jail, it can lead to you and your family going to court, and if proven guilty, a 600 to 2100 dollar fine," Wilson said.
Government Relations Manager of the ABC Board Dean Argo talked to the student body about how the use of alcohol can affect your future and how its influence grows as you move closer to graduation.
"By the eighth grade 30 percent of students have had a drink. By the eleventh grade that number doubles to 68 percent of kids that have had a drink. Drinking at a young age can lead to certain consequences that can get you kicked out of college and limit your jobs in the future. One of our big partners is Mothers Against Drunk Driving (MADD)," Argo said.
Joe Godfrey expressed his idea about alcohol be better regulated and having more laws prohibiting the use of alcohol for all people in the US.
"Alcohol is a mind altering and addicting drug that needs to be regulated because kids under 15 have four times the chance to become addicted to alcohol. Alcohol has caused the US to use 223.5 billion dollars in accidents and emergency supplies not including the money that people the use out of their own pocket," Godfrey said.
Leave a Comment