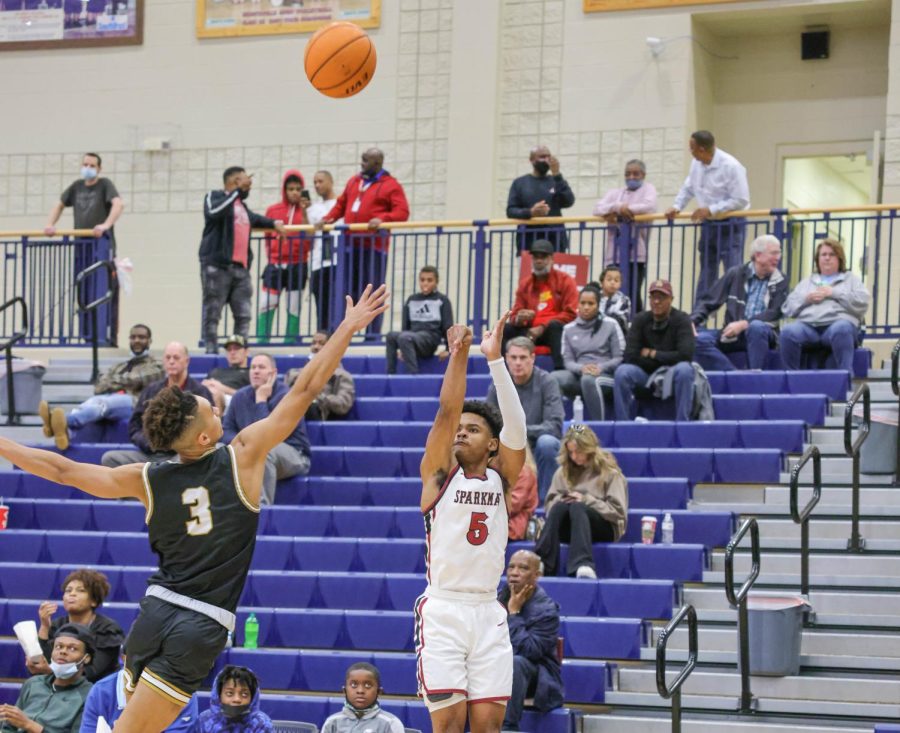 Scott Lowe
Despite being the sixth man rotation, senior Timbre Kirk took to the court and demonstrated his passion for basketball, winning the title of MVP this season's Huntsville's City Classic tournament on Dec. 27-29, 2021, playing against Columbia High School, Oxford High School, Huntsville High School and Grissom High School. 
Not being on the starting lineup did not discourage Kirk but pushed him to give his all on the court when given the opportunity. Receiving the MVP award, helped Kirk realize his potential and the potential others have regardless of their position. 
"Because I'm not a starter, it felt good to win the award because it means I filled my role on the team. I did my job. I hope that it shows that no matter what's your role if you do your job somebody will notice. Having a tough season my junior year, I wanted to come in my senior year and contribute in any way starting or coming off the bench. I think me being the sixth man really suits me well to play my game," Kirk said.
Even though Kirk received the award, he still appreciates his team for contributing their talents and skills to help him earn it. As an athlete, he recognizes the importance of teamwork and the ability to be stronger as a team rather than as an individual. 
As Kirk's head coach, Jamie Coggins acknowledges his performance and ability to play during the tournament. Kirk had made 16 threes in four games as well as 40 points and nine threes at Columbia High School.
"I was ecstatic for Timbre. He played so well during the Huntsville city classic tournament and was our most consistent performer. Timbre shot the ball with a lot of confidence and I believe his preparation and work ethic in terms of why he shot the ball well is because he gets in the gym and he works on it," Coggins said.
Since Coggins has had 30 years of coaching experience, 27 years in both coaching and education and then 10 years as a head coach, he has developed the mindset of what he wants his players to have and who he wants them to be as individuals.
"Number one I think that the most important thing is that I want our players to be good people on and off the court. It is the way you carry yourself. Number two is we want our guys to be students before athletes. We check grades and make sure they behave right in the classroom," Coggins said. "Number three is I want our basketball athletes to have a good attitude, strong work ethic, be great teammates and have positive body language."
During the season, Coggins noticed much potential not only in Kirk and his ability to play but how he conducts himself in his everyday life.
"Timbre is a great human being that has very high character. He does things right off and on the court," Coggins said. "He's one of the most outstanding young men I know and that will carry him further in life than anything else."