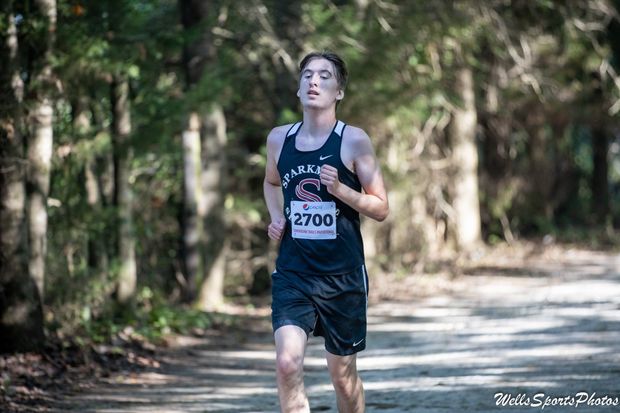 Geary Howell
On Sept. 4, the cross country team took to Moulton, Alabama to compete in their first meet of the season, the Pepsi Invitational. Many athletes from around the state participate in a chance to place in high ranking or to improve their times from any previous races from seasons before possibly getting a new PR or personal record.
At the start of each season, most athletes set a goal they tend on accomplishing in a certain amount of time. Kinsey Sivley, senior and cross country athlete, did not want to repeat her first meet last year and pressed forward in order to make a change and finish the race.
"My only goal was to finish the first race, and I reached it knowing I could do better. Last year I got injured at the first meet of the season, and this year it was more of a mental block to finish and make it through. After getting through it, I'm more focused on performance and ready to continue the season," Sivley said.
Workouts take place every day after school for the cross country team in order to help improve endurance and stamina as well as better the team mentally as a whole. Wyatt Harris, sophomore and cross country athlete, strived every day to put in the work and effort of pushing himself and taking care of his health to prepare for future races.
"I would say that I was prepared for the race with everything I had to do not only on the day before but all week or month, which is usually just hydrating and eating well, along with practicing every day with the team after school," Harris said. "The workouts we do every day either have to do with running 5 miles through a nearby neighborhood or running on the track over at the football field. These workouts do have a very positive impact on the meets with running better and just being physically ready for doing the three-mile race."
Even when Harris found the race to be strenuous on his body, he still had the encouragement of his family and friends to help him persevere and finish the race with a time of 22:34.51.
"The fact that my family and my teammates were expecting me to finish the race motivated me to get through it and try my hardest. This helped me when I began to get tired and really wanted to walk, but I went through it and kept going," Harris said. "The only time I wanted to quit was when I started to struggle in the flooded area and in a field we had to go through, which had absolutely no shade at all. That was tough to run through."
With the support and encouragement from her friends and family, Sivley had full motivation to complete the race and finish with a time of 22:40.83.
," Sivley said.
Even with the assistance of his previous coaches, Harris was able to realize his potential and personally make a goal for himself that he could accomplish by the end of the season.
"So I did have a goal since my third year because Coach Poole moved me up to varsity early, so I ran the three-mile races instead of the two-mile like junior varsity had to do," Harris said. "My goal was to try and reduce 30 seconds to a minute off my time each race, and the ending result came to 19:28 near the end of last season. I still pursue this goal now and hope to get a solid 18 by the end of this season."
On Sept. 18, Harris will be racing in Huntsville at John Hunt where he wants to try to finish the 5k race with a faster time and hopefully PR in hopes that it will encourage him to become faster each race in order to accomplish his goal by the end of the season.
"My current goal at John Hunt in Huntsville this weekend is to shave a minute off of my 5k time, which is three miles," Harris said. "Each meet I will try to get a minute off my time and eventually end up around the 17-18 minute range for a three-mile run. It'll take a lot of work but I will make my goal a reality one day."