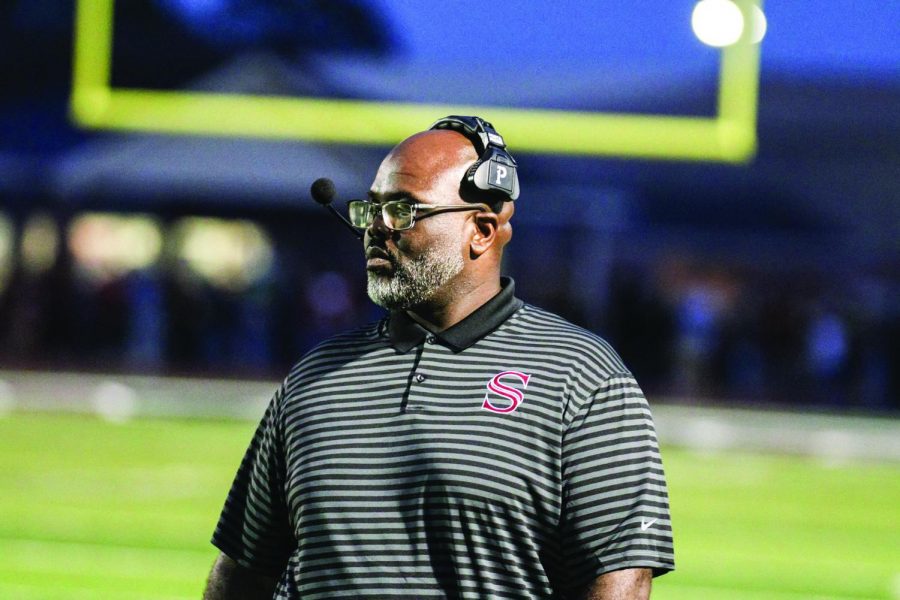 Head Coach Talks Team Prior to Friday's Opener
Crimson Crier : What is your outlook for this season?
Coach Laron White : Well, my outlook for this season is very positive, and we got a good group of kids that work hard you know, they expect to win you know, so that's part of it. That's the biggest part of everything you believe in yourself. So we have a positive outlook and we want to be very successful.
CC : What does a typical practice day look like?
CW : We start at, you know, kids come down at two o'clock, will lift and will meet and we go out for practice at 4 p.m. and we pretty much just, we will work till about 5 p.m. 5:45 p.m.. So that's a typical day for our guys
CC : How would you describe your coaching style?
CW : Straightforward to the point, you know, I'm tough on the guys at times. They know what I expect and they know what I know and what we're trying to do. We trying to win ball games and get tougher and be better than everybody else. So, you know, I kinda coach that way. I think we should play the game tough.
CC : What are you expecting from your team other than winning?
CW : Just to grow as men and love each other, be good teammates to each other and be good friends.
CC : What to you makes an excellent football player?
CW : Determination. Just a no quit attitude.
CC : Who would you say is going to be your toughest competition and why?
CW : There's no one on the schedule that we look at less than the other one. We just look to the next game we play as the toughest one.
CC : Who are you looking forward to playing and why?
CW :  The first game is Gardendale on Friday.   It's going to be exciting, you know, coming out of the COVID year. So we're looking forward to playing.
CC : Who is your starting lineup on offense and defense and who do you think is your most promising player?
CW : I know some of the guys already, but some of them we don't. It's kind of early you know?  Our quarterback Luke Schomburg. He's waited his time. He's doing great things for us. He's pretty much the leader. So we looked up for him to step up on this.
CC : What do you expect from your new coaches and what do they bring to the table?
CW: Everybody brings something different. We expect for them to just continue to, you know, mainly just take care of our guys, coach them and love them and treat them right, but have them to where they want to play hard for them. And that's all we expect from them.