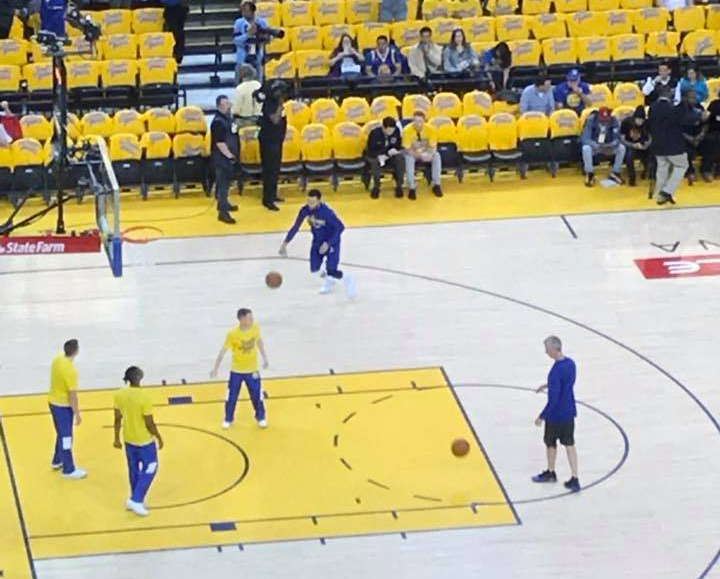 Photo Credit: Erin Coggins
NBA Play-In Offers Exciting Basketball
Five months since the 2020-2021 NBA season tipped off, the postseason has finally arrived. Except this year, things are a little different. A play-in tournament will decide who the seven and eight seeds are in each conference. The tournament will be headlined by the defending champion Los Angeles Lakers hosting the Stephen Curry-led Golden State Warriors, but there will be plenty more excitement in the other three games. 
Eastern Conference
No. 7 Boston Celtics vs. No. 8 Washington Wizards
Boston concluded the season on a cold streak, dropping nine of their last 12 games. Washington had a drastically different ending, winning fifteen of their final twenty games and grabbing the eight seed on the last day of the regular season. The Celtics are without Jaylen Brown, and the Wizards have no depth. This game will be a battle.
No. 9 Indiana Pacers vs. No. 10 Charlotte Hornets
Coming off of a below-average regular season, Indiana desperately needs to make the playoffs. They have gone out in the 1st round five consecutive seasons in a row, and continue to seek a deep playoff run. The Hornets had an unexpectedly good season, led by rookie LaMelo Ball, Gordon Hayward, and Terry Rozier. However, Hayward will not be available against the Pacers. Indiana is the clear favorite to advance (as long as Malcolm Brogdon is healthy). They have three players averaging at least 20 points, and have a decent supporting cast including TJ McConnell and Justin Holiday.  
Western Conference
No. 7 Los Angeles Lakers vs. No. 8 Golden State Warriors
Plagued by injuries for the duration of the season, the Lakers were disappointing. Stephen Curry carried the Warriors to 39 wins, winning the scoring title with 32 points per game. Warriors vs. Lakers will by far be the most intriguing match of the play-in tournament, and the winner will face the No. 2 seeded Phoenix Suns. The loser will fall to the final play-in game, where a loss would kill their season and a win would set up a date with No. 1 overall seed in the NBA playoffs, the Utah Jazz.
No. 9 Memphis Grizzlies vs. No. 10 San Antonio Spurs
For the second year in a row, the Memphis Grizzlies are the No. 9 seed in the West seeking a spot in the playoffs. The Spurs missed the playoffs for the first time in 22 years last season, and have not improved since. In this boring matchup, the winner will very likely meet their fate against the Warriors or Lakers this Friday.