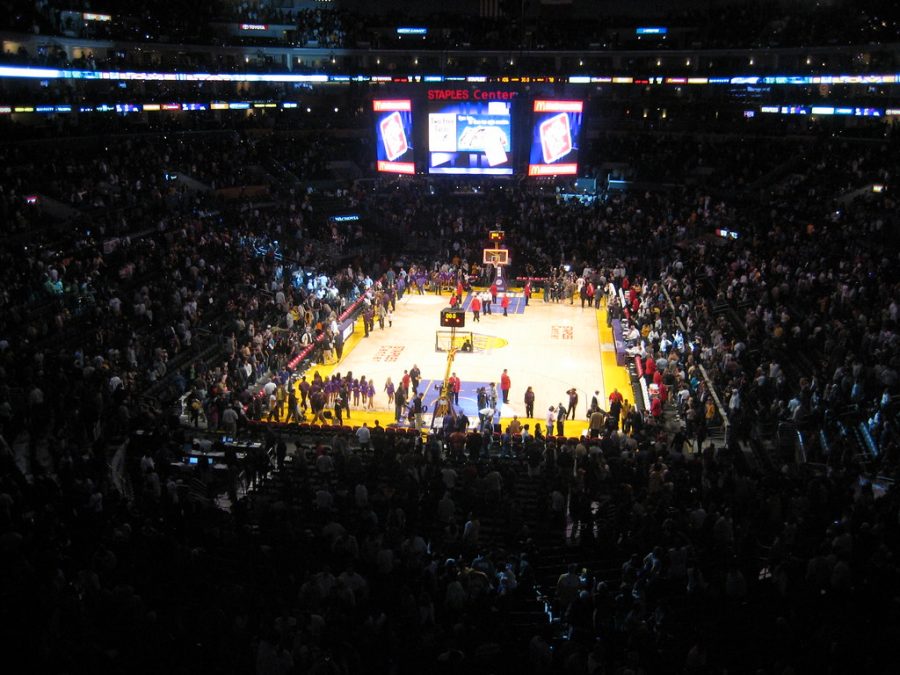 "LA Lakers vs Chicago Bulls" by TiM_BiG
Sports Editor Makes NBA Predictions
Four days before the NBA's Dec. 22 start date, teams frantically get their teams together ready for play. In a year full of confusion, the coronavirus dictates everything about the season from dates to revenue. This is how the season will probably play out….
Western Conference
Los Angeles Lakers
The defending champions from Southern California just got better. Way better. They added reigning 6th Man of the Year Montrezl Harrell, sharpshooter Wesley Mathhews and former Defensive Player of the Year Marc Gasol through free agency and acquired the stellar German point guard Dennis Schröder via trade. The Lakers are without question once again championship favorites.
Los Angeles Clippers
Coming off of a disappointing exit from the 2020 playoffs, many league executives thought the Los Angeles Clippers would fall apart. Montrezl Harrell left for the rival LA Lakers and solid bench player JaMychal Green signed with Denver. In response to the pair of losses, GM Jerry West signed Serge Ibaka from Toronto, traded for Luke Kennard and extended all-star Paul George's contract. The Clippers are going to return to the league with something to prove, especially the team's stars Kawhi Leonard and Paul George who vanished in the playoffs. LAC remains the biggest threat in the West to unseat the Lakers.
Denver Nuggets
After an exhilarating playoff run to conclude last season, the Denver Nuggets still feel underrated. They did not change much over the offseason, only losing Jerami Grant and Mason Plumlee from their bench. They signed veteran power forward JaMychal Green from the Clippers and picked up RJ Hampton through a draft-night trade with Milwaukee, completing a relatively quiet couple of months. Denver has fantastic team chemistry and the team will continue to improve as Nikola Jokic and Jamal Murray reach their primes.
Dallas Mavericks
With Luka Doncic coming off an MVP-caliber season and Kristaps Porzingis finally healthy (hopefully), the Dallas Mavericks are ready to compete. They brought in Josh Richardson from Philadelphia and picked up James Johnson, a fierce competitor who will bring leadership to the team. Doncic is expected to improve even more in his third season in the league, elevating himself into a top 5 player in the NBA. Porzingis also is improving his game, now an efficient scorer who can rebound and defend well. The Mavericks are certainly a sleeper team with a bright future ahead.
Utah Jazz
A heartbreaking loss in Game 7 of the first round against the Denver Nuggets ended a season in which the Utah Jazz felt confident they would go far into the playoffs. Luckily for the Jazz, they did not lose anybody important. They are essentially running it back with the same team, except this time around they have a healthy Bojan Bogdanovic. Utah has a strong roster, but will it take them past the first round of the playoffs? Probably not.
Portland Trail Blazers
The Portland Trail Blazers fought hard in the bubble to make the 2020 NBA Playoffs. Unfortunately, their hope was short-lived as the Lakers easily defeated them in five games. Over the offseason, Portland GM Neil Olshey was aggressive, acquiring Robert Covington and Enes Kanter in exchange for draft picks. Jusuf Nurkic and Rodney Hood are now 100% healthy, and the team has a solid bench. Portland has the capability to upset a top team this year, and franchise superstar point guard Damian Lillard believes they can make the Finals. That belief may be a stretch, but confidence is key to be successful in the NBA.
Houston Rockets
In probably the most turbulent offseason out of all the teams in the NBA, the Houston Rockets got worse. Their two best players Russell Westbrook and James Harden requested trades, and they got rid of Robert Covington without getting an impact player back. Swapping Westbrook for John Wall was a bad move. Wall has not played in two years, and even fully healthy he still is not as good as Westbrook. The team signed Christian Wood to a three-year deal and former all-star DeMarcus Cousins to a minimum contract, but that is not enough to make a serious run in the playoffs. They have a new head coach and GM, have no depth on their roster and their star player is disgruntled. Houston is not a contender.
Phoenix Suns
Despite not making the playoffs since the 2009-2010 season, the Phoenix Suns have a solid chance of returning to the NBA Promised Land. The organization pulled off a huge trade last month, acquiring 10x all-star Chris Paul from Oklahoma City in exchange for Ricky Rubio, Kelly Oubre Jr. and picks. They signed Jae Crowder to a three-year deal and drafted Jalen Smith out of Maryland. Phoenix has become slightly overrated since their undefeated stint in the bubble, but regardless they still have a solid squad.
Golden State Warriors
Dealt a huge blow by losing Klay Thompson for another season due to an achilles injury, the Golden State Warriors scramble to create a strong roster around Stephen Curry. They won the No. 2 overall pick in the draft and decided to choose James Wiseman, a 7'1 center from Memphis. They signed Kent Bazemore and Brad Wanamaker as backup guards, and traded for Kelly Oubre Jr. to add some more offensive  firepower. However, the success of Golden State depends on its biggest players. Curry and Draymond Green are finally ready to play and Andrew Wiggins has a chip on his shoulder. The Warriors may surprise people this season.
New Orleans Pelicans
Moving Jrue Holiday had been in the works for a long time, however, the New Orleans Pelicans are not going to get worse. They made an underrated move in getting Steven Adams from Oklahoma City and most of their roster from last season is still intact. Zion Williamson is healthy. New Orleans is a developing team that will fight for a playoff spot.
San Antonio Spurs
It is rebuild time in San Antonio, but the organization will never admit it. The Spurs did nothing over the offseason, and making the playoffs looks more unlikely than it has been this century. Franchise "stars" DeMar DeRozan and LaMarcus Aldridge only have one year left on their contracts (they should not be re-signed) and head coach Gregg Popovich is nearing retirement. A new era has begun in the winning city of San Antonio: losing.
Sacramento Kings
Although the Sacramento Kings regressed last season, they still have high hopes for the future. Unfortunately, high hopes are not enough to make the playoffs. They let Bogdan Bogdanovic walk away for nothing and Buddy Hield clearly does not want to be there. Marvin Bagley can not stay healthy and the team has not made the postseason since the 2005-2006 season. That trend will continue this season.
Memphis Grizzlies
The Memphis Grizzlies had a great season last year with rookie star Ja Morant headlining the team, barely missing the playoffs in a season where they had some of the lowest expectations in the league. Since exiting the bubble, they have not been very active. Their roster is not any better than last year, but luckily they are a young team that will get better each season together. Because of how crowded the West is in talent this year, Memphis has a low chance of qualifying for the postseason.
Minnesota Timberwolves
Since making the postseason three seasons ago, the Minnesota Timberwolves have not stopped adjusting their roster. They made a blockbuster deal in February, acquiring all-star point guard D'Angelo Russell from Golden State in exchange for Andrew Wiggins. They were awarded the No. 1 pick in the 2020 NBA Draft Lottery and selected Anthony Edwards, traded for Ricky Rubio and signed a couple of players for bench depth. Minnesota GM Gersson Rosas is constructing a well-rounded team. The Timberwolves are trending in the right direction, and should be pretty good in a season or two.
Oklahoma City Thunder
By far the worst team in the NBA, the Oklahoma City Thunder are racing to get the No.1 pick in next year's draft. They completely blew up their team over the offseason, unloading three of five starters as well as their two best bench players. Oklahoma City has only missed the playoffs once in franchise history, but they will not be returning anytime soon.
Eastern Conference
Brooklyn Nets
Following a year and a half of waiting, the Brooklyn Nets are finally healthy. Kevin Durant is poised to return to his superstar form and Kyrie Irving is ready to prove himself as one of the best point guards in the league. Brooklyn has possibly the best bench in the entire NBA, with big names including DeAndre Jordan, Taurean Prince and Spencer Dinwiddie. This unit is the biggest competition the defending champion LA Lakers will face, assuming they can stay healthy.
Milwaukee Bucks
Losing to the Miami Heat in the second round of the playoffs was not supposed to happen. Since then, the Milwaukee Bucks have reloaded and are more motivated than ever before. They flipped Eric Bledsoe and picks to get Jrue Holiday, one of the best two-way guards in all of basketball. Giannis Antetounkounmpo is coming off back-to-back MVP seasons, but is yet to make the Finals. Milwaukee is certainly in the hunt to win the East this year, but they have a long road ahead of them.
Miami Heat
Miami was the most overachieving team of last season, making the Finals in a year where many experts thought they would not make it past the first round. With the exception of losing Jae Crowder and adding Avery Bradley, the Miami Heat are basically running it back with the same team. GM Pat Riley has aligned team payroll with the 2021 offseason, but his strategy of signing a superstar was stalled when Giannis Antetounkoumpo signed the supermax extension with the Milwaukee Bucks on Tuesday. Miami can still win a championship this year, but it will be even tougher than last season.
Boston Celtics
The Boston Celtics are a wild-card of some sorts. They have the ability to compete for championships but also could go out in the first round. In the bubble, they made it to the conference finals before being eliminated by the Miami Heat. This offseason, they brought in Jeff Teague and Tristan Thompson for depth. Boston should not be overlooked. They have serious potential.
Philadelphia 76ers
Rearranging the team became immediately necessary for the Philadelphia 76ers after an embarrassing first round sweep to the Boston Celtics in the bubble. They traded Josh Richardson to Dallas and Al Horford to Oklahoma City in exchange for Danny Green, Seth Curry, Terrance Ferguson and Vincent Porier. They also brought in center depth, signing former all-star Dwight Howard and trading for Tony Bradley. Philadelphia desperately needs to get over the hump and make it past the first round of the playoffs, and this team has a good chance of doing so.
Washington Wizards
Trading for Russell Westbrook was brilliant. A new era has begun in Washington D.C. With Westbrook and Bradley Beal as the starting backcourt and Davis Bertans and Rui Hachimura in the frontcourt, the Washington Wizards look nice. They drafted Deni Avdiji with the No. 9 pick in the draft and he is expected to immediately contribute. The Wizards look playoff bound.
Toronto Raptors
Two seasons since they improbably won an NBA championship, the Toronto Raptors are declining. They lost their starting frontcourt to the two LA teams (Serge Ibaka chose to join former teammate Kawhi Leonard with the Clippers and Marc Gasol decided to sign with the Lakers, the team who drafted him.) and replaced them with Aron Baynes. Toronto will stay competitive, but will not be relevant in the championship conversation.
Atlanta Hawks
There is no question about it: the Atlanta Hawks had a great offseason. They signed Danillo Gallinari, Bogdan Bogdanovic, Rajon Rondo and Kris Dunn to multiyear contracts, drafted Onyeka Okongwu and now have a healthy Clint Capela. Their four-year playoff drought is coming to an end soon with the offensive abilities this squad has. Atlanta is doing an excellent job at rebuilding.
Indiana Pacers
With no clear "best player", the Indiana Pacers are an average team. In fact, they have been average for a long time. Victor Oladipo has not been the same since his injury and Myles Turner is on the trading block. They fired head coach Nate McMillan after a disappointing exit from the playoffs, but he was not the problem. Time to start over, Indiana. Blow up the team.
Orlando Magic 
Orlando surprisingly ended their streak of missing the playoffs in 2018, but there has not been much to celebrate since. They drafted Cole Anthony to replace DJ Augustin at backup point guard this offseason, but that is about it. The East is getting better and the Orlando Magic are not. They are no longer strong enough to make the postseason.
Charlotte Hornets
Still getting used to the days without Kemba Walker, the Charlotte Hornets remain in rebuild mode. They selected LaMelo Ball with the third pick in this year's draft and signed Gordon Hayward to a lucrative four year deal. Owner Micheal Jordan and GM Mitch Kupchak are making a solid roster that should be able to compete in a couple of seasons. This year will be used to evaluate what direction to go in the future.
Chicago Bulls
The Chicago Bulls kicked off their offseason with a surprise: they chose to select Patrick Williams with the No. 4 overall pick in the draft. The team's decision met much scrutiny from fans and surprised league executives, but the 6'8 forward from Florida State has been impressive during the preseason. New head coach Billy Donovan should bring a winning dynamic to a team that has had a losing record each of its last three seasons. The Bulls will not be in the postseason, but they are on the rise to getting there.
Detroit Pistons
The direction the Detroit Pistons are trying to go is unclear. Bringing in four bigs in the same offseason was strange, especially considering they did not even re-sign Christian Wood. Blake Griffin and Derrick Rose are healthy, but they are two of the most injury-riddled players in the entire association. They sent Luke Kennard to the LA Clippers and drafted Killian Hayes with the No. 8 pick in the draft. Due to their awkward roster composition and questionable front office decisions, Detroit's basketball future looks bleak.
Cleveland Cavaliers
Ever since LeBron James left again in the summer of 2018, the Cleveland Cavaliers have been in strict rebuild mode. Over the past three years, they have had three top eight picks (Collin Sexton, Darius Garland and Isaac Okoro). Their longest tenured player Tristan Thompson left for the Boston Celtics, but NBA leading rebounder Andre Drummond opted to stay in Cleveland for another season. The Cavs are surely headed back to the lottery this year.
New York Knicks
As inexplicable as it seems, the New York Knicks managed to get worse. They cut a barrage of players including Taj Gibson, Bobby Portis, Allonzo Trier and Damyean Dotson for cap space reasons without bringing in any quality reinforcements. They signed Austin Rivers for some reason, only complicating their point guard situation even more. (They have four point guards that have a case for starting minutes: Rivers, Elfrid Payton, Frank Ntilinka and Dennis Smith Jr.) Drafting Obi Toppin was a glimmer of hope for Knicks fans, but they will not be good anytime soon unless they can get a bonafide superstar.
NBA Finals Prediction
LeBron James and the Los Angeles Lakers are determined to start the NBA's next dynasty. They will face the highly touted Brooklyn Nets in another LeBron vs. KD Finals showdown, but Anthony Davis will be what separates the teams. The Los Angeles Lakers will win their second championship in a row and LeBron will etch even closer to Michael Jordan.