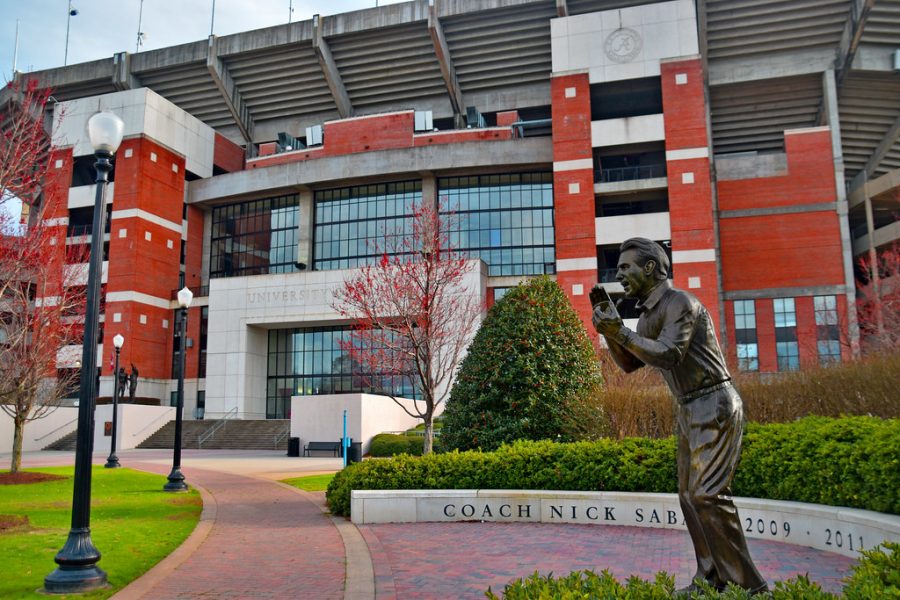 Photo Credit: "Coach Nick Saban Statue -- University of Alabama Football Stadium (Gate 1) Tuscaloosa (AL) February 2019" by Ron Cogswell is licensed with CC BY 2.0.
Editor Predicts Another Rolling of the Tide
As the calendar year begins to finish its cycle and time begins to fall into the new year, the country is closing in on one of its most beloved holidays–the college football playoffs. Despite the uncertainty of ever having a season due to the COVID-19 blanket covering the world, a plan was put in place to retrieve a sense of normalcy by allowing sports to be played.
Now just a few short weeks away from what is the biggest football event of the year, the 2020-2021 college football playoffs have the makings to go down in history. Although fans of each school will be gearing up to show their campus colors, the abysmal fate of limited attendance could be an x-factor for some of the teams competing this year. 
As of now, the final four is set with the 2017 national champions, Alabama at 10-0, Notre Dame at 10-0, Clemson at 9-1 and Ohio State at 5-0. Some obvious differences right on paper. Every team in the final four has played their full length 10 game schedule except for Ohio State due to game voids from COVID-19. Some controversy has been raised as to whether they deserve to be in the top four due to their reduced schedule however they have proved to be a consistent team in years past so the decision is one to be debated about.
Starting from the top down at number one, the Alabama Crimson Tide. Coming off an 11-2 season in 2019 the Crimson Tide looked to bounce back strong after losing some key pieces like superstar quarterback Tua Tagovailoa to the NFL, they did not disappoint. Finishing off the regular season at 10-0 and finishing number one overall with the backing of likely Heisman winner Mac Jones, all awaits is their round one matchup from here.
At number two sits a season opener dark horse, Notre Dame. Also at 10-0, the Fighting Irish haven't had their undefeated season come easy. Notre Dame notched their first big win of the season against number three Clemson in the middle of the season, later also grabbing a win against number 17 ranked North Carolina. With their backs against the walls and their confidence at an all time high, Notre Dame looks to make noise this year.
Falling just behind as previously mentioned, number three Clemson. Sitting at 9-1 with just the one week 7 loss against Notre Dame coming after losing starting quarterback Trevor Lawrence for the afternoon. The loss hurts Clemson's standings in the ranking but no matter where this team falls whether it be one or four, they have proved to be one of the most dangerous units in previous years with Lawrence having an all time record of 32-1 with the lone loss coming against LSU in the 2019 national championship game.
And lastly at number 4, Ohio State. As previously mentioned Ohio State falls well behind the pack with a 5-0 record however this doesn't mean they aren't still a threat to the other teams running with them. An overly competitive program, The Buckeyes have their work cut out for them to shake off the rust and get a big win over their round one matchup.
With all the teams introduced, the first game as of now is slated to be Alabama against Clemson in what will prove to be a pivotal game for both schools. Both are powerhouse programs with elite play on both sides of the ball but in the end Alabama's defense will prevail against the Clemson tigers along with an offense display like none other from stars Mac Jones and Devontae Smith. Trevor Lawrence and company will put up their fair share of moments but ultimately the Tide will roll into the National Championship game.
Now who will play Alabama? The short answer is Ohio State. After a disappointing run in last year's playoffs, the Buckeyes look to secure their spot in the biggest game of the year. Notre Dame will put up a good game and have had a standout year but with all things considered, They aren't a powerhouse team. Their biggest win came against Clemson earlier in the season however the Tigers were missing their superstar quarterback and Notre Dame was only able to push out the win by seven points, The Fighting Irish, although a really good team, are not good enough to beat out Ohio State.
Now for the big stage, the National Championship, number one Alabama and number four Ohio State, a huge game for both teams but there are some things that are just too much to handle for one team and that is elite work from Alabama at nearly every facet. Ohio State is sure to deliver a good game but in the end it may just not be enough. The 2017 National Champions have the pressure of the world on their shoulders to come up big and with the one of the greatest coaches in college football history on their side, the likely Heisman winning with front runner Devontae Smith right behind him and a star studded defense, The Crimson Tide have secured their 23rd all time championship win in a display of excellence on both sides of the ball.