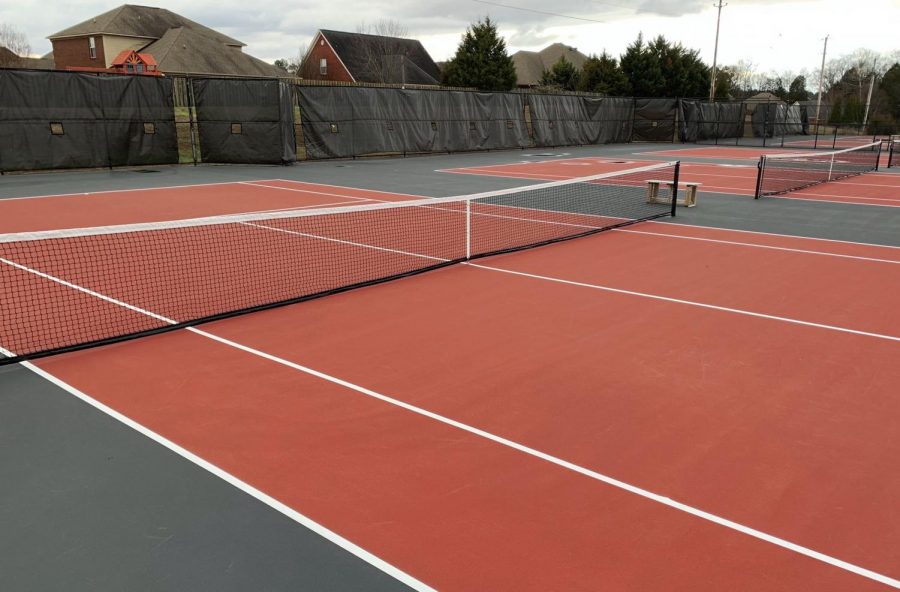 Tennis Team Begins Season On New Courts
As spring sports are beginning to get in full swing, the tennis team has begun their season on new courts.
After years of aiming around cracks, pulling weeds sprouting through the concrete and sliding on the uneven surfaces, the team can finally play on their home courts without these hazards. 
"Monrovia Middle's tennis court project scope was to resurface the courts, repair the cracks, and install new nets," Director of Operations, Joseph Cuzzort said. "The cost associated with the scope of work was $48,650."
The team plays on the Monrovia Middle courts since there are no courts on campus. These courts are open to the public outside of school hours and are accessed by the public daily. 
"You can usually go about 6 years without having a court resurfaced," tennis coach, Ethan Richardson said. "Ours were resurfaced in 2012; it was time for an upgrade." 
The resurfacing of the courts was a problem seen County-wide, as Hazel Green had not had their courts resurfaced in over 12 years and were nearly unplayable. 
"Former Madison County Superintendent, Matt Massey, brought the tennis court project to the board members' attention in 2019," Director of Operations Joseph Cuzzort said. "The board then voted to resurface the courts at Sparkman, Hazel Green and Madison County due to the poor condition of the existing court surface." 
After approval, the project was sent out to bid where five different contractors submitted a quote. Hellas Construction from Austin Texas was given the job. 
Hellas began work in September of 2019 and continued resurfacing until December when temperatures started to cause issues with the quality of the resurfacing. 
"With the weather inconsistencies, Hellas agreed to have the courts playable for the 2020 season," Cuzzort said. "They will return in the spring to complete the project to our satisfaction before the end of June 2020. The warranty period will begin on the project end." 
The new courts were even resurfaced in maroon tones to match the school's cardinal red. 
"The resurfacing of our courts allows for a better experience when playing," varsity player, Jared Wulff said. "The colors just really embrace Senator pride."