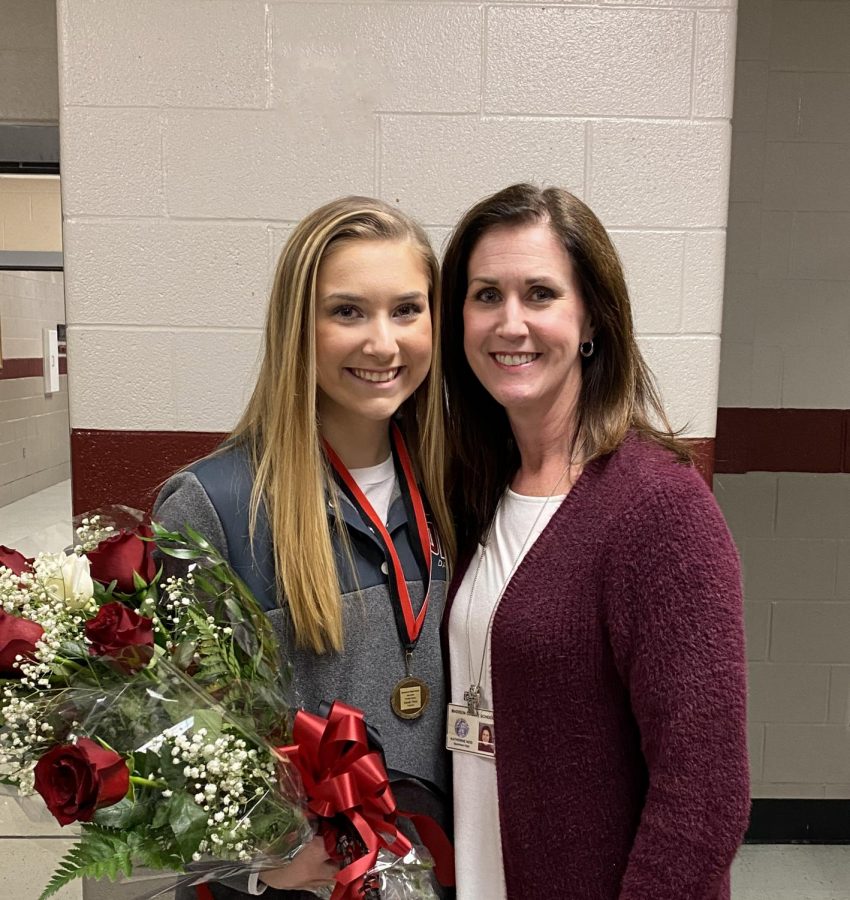 Photo Credit: Photo Courtesy Of Katherine And Sarah Neis
Mother Coaches Daughter Through High School
Mom and daughter duo, teacher Katherine Neis and senior Sarah Neis spend even more time together than some of the closest of families. When she isn't teaching sophomores and juniors English, Katherine is coaching the school's dance team that Sarah is a part of.
Sarah has been dancing since she was three-years-old, and has danced in multiple genres, including her favorites, hip hop and tap.
"Performing is like the best feeling ever, you have so much adrenaline that you just go out on the stage and do what you know how to do best," Sarah said. "My favorite thing about performing is the feeling when you finish the dance knowing you and your teammates gave it everything you had."
Her mom came from a similar background, dancing all the way up until her junior year of high school. 
"The kind of dancing I did was nothing like the dancing these girls do," Katherine said. "I did primarily ballet, tap. 'Jazz' was the beginning style that we were just learning. I never did hip hop and wasn't even really sure what it was until my daughter started dancing. I also never danced on a school team. I grew up in West Texas, and that is not something that my school offered. I only ever danced at a studio."
To be able to coach dance, Katherine had to give up her planning period, which has proven to make balancing her life a tricky task to accomplish.
"I do sometimes struggle with keeping up with grading- my students will attest to that- and sometimes when we have late practices after school or parent meetings I don't always get home at a decent hour," Neis said.  "The positive about all of that is that I do get to spend that time with Sarah, so sometimes I see her more during dance team than I do other times."
Being a coach also comes with not only being close to her daughter but with the whole team. Neis has had the opportunity to reach out to a number of students through the sport.
"The most rewarding part of seeing the team perform is knowing how hard they have worked to get to that point," Katherine said. "I absolutely love the energy they have when they get out on the stage and how they motivate and encourage each other through the dance. I always tell them they've done it when they make me cry because I can feel their energy and life in the dance."
Even though most people would not love the idea of their mom being around them all the time, Sarah loves that her mom coaches her, even though she knows people find that strange. 
"We definitely have a stronger bond because of her coaching me because she knows everything that goes on at dance and she can relate to it more than if she was just a dance mom," Sarah said.
The pair still spend time together even when they are not at practice. They go on "mommy-daughter dates together and go shopping and eat lunch together. They also love to watch The Bachelor together when they have the time. Spending as much time together as they do, they know each other inside and out. Katherine's biggest complaint is her daughter not keeping her room clean, although Sarah would disagree.
"One 'Karen mom thing' my mom does is always complain about how much I'm on my phone or TikTok and says that my phone is my best friend and that I would die without it," Sarah said.
Sarah and Katherine have always had a strong connection, and they believe they have a stronger one because of the dance team. They have the opportunity to share many experiences together, but they also bond over other things because of dance. They believe it has opened other avenues of their relationship because they are together as much as they are.
"It is so great to be able to coach Sarah. We get to spend that extra time together, and we get to experience and share so many additional memories," Katherine said. "I wouldn't trade it for the world. It has been great as a mother to see her grow over the past four years not only as a dancer but as a leader and as a genuinely good person. I get to see a side of her that I might not get to see if I wasn't her coach too.  Sometimes it can be awkward when I have to have a hard talk with the team or when I have to give her corrections, but I try very hard to not think of her as my daughter when we're in practice."