Sports Reporter Interviews Player of the Week from the Grissom Game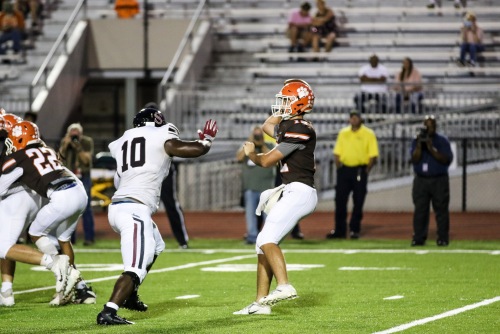 Sparkman football is off to a flashing start this season, dominating Hazel Green, Gadsden City and Grissom. With a 3-0 start, there are high expectations for the Senators. I interviewed player of the week nominee, KaRon White, to ask him about how he is feeling about their success.
How did you feel coming into the Grissom game?
We felt confident. We knew if we played well we would come away with the victory.
What plays opened the game up for you guys?
When we started getting defensive stops and the offense scored the first couple of times, we knew if we kept pushing we would prevail.
What was your best play of the game?
A. My best play was my 60-yard touchdown, where I picked up the ball and ran all the way back.
How did the team feel after the game, and what did the coaches say?
We were excited, but we knew we had to get ready for Huntsville, so we couldn't dwell on it. The coaches pretty much said the same thing.
How do you feel about where the team is right now?
The team is coming together well, and we have great chemistry.
Is there anything the team needs to improve on?
We just have to keep up what we've been doing.
Leave a Comment