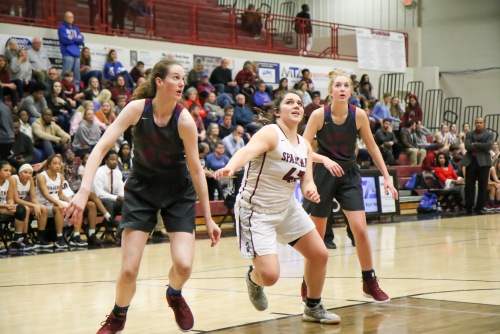 Scott Lowe
Girls Basketball Looks To Win Area Out Right
January 24, 2019
For every team, the end goal is to make it to the playoffs and contend for the championship. At every level of sports you battle it out for weeks in regular for seeding in the playoffs but the team is aware that ranking is not an instant championship.
"Rankings are a reflection of accomplishments in the past," head coach Patrick Delay said. "They don't mean much for our future."
For most teams, to get to 5-0 in area match ups for a season means explosive offensive and highlight plays. But, for the team, they take pride in their defensive efforts and shutting down the other team's offense.
"Our teams defense has really started to come around very nicely," Delay said. "We can score fairly well but to go deep in the playoffs it's all about defense."
For the players however, their success is about ending the season on a high note for the seniors on the team. Keeping the same pace all season and making sure that they do not let their energy and effort slack from the competition.
"As a team, we're going to continue to work hard and not get lackadaisical," guard TJ Webster said. "Every team is beatable and long as we remained focused on the rings."
The girls have already secured hosting the area tournament and are on target to winning the area out right with a victory over Huntsville tomorrow night.