Players Look Forward to Season Opener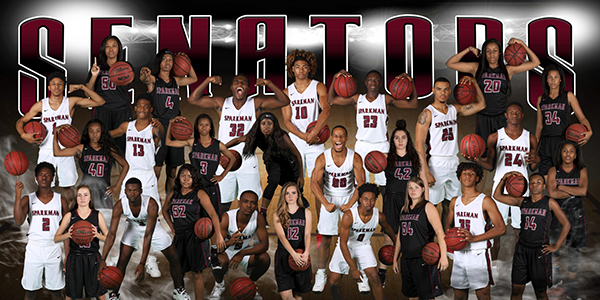 Advertisement
Hang on for a minute...we're trying to find some more stories you might like.
The long wait for the start of basketball season is finally over. The teams are pumped up and ready to endure there season. The fans are excited as well as the players; join them all Friday night so that the team will have a great crowd to start their season alongside. The teams have improved and grown closer together and they are ready to go.
"Since last season, we have became so much closer as a team. I believe that this will help us with our playing out on the court this season," senior Francesca Dempsey said
Lots of preparation has went into this season. The teams have been practicing together for several weeks after school, but they have practiced continuously throughout the summer to better prepare themselves for the season. Practicing as a team isn't the only way they practice. Each player practices individually on their own to improve different skills that they need personally. Basketball season can be a long and tiring season, so the players have to make sure they are in excellent condition, so they can endure the season. Injury can be serious punch to a team. So the players must be prepared and ready.
"We have improved a lot; our chemistry is a lot better and we are playing better. We just gotta stay strong and make it to Birmingham," junior Malik Tyson said
With the season coming up quick, the players have high hopes. A strong support from the fans help to drive the players to win. Having a student section is a great way to support the team. The basketball team deserves a student section as much as football or any other sport. When fans are supporting the team, it motivates them to win. The players are sure to give you a show if you come out and attend.
"Everyone should come out to watch us this season. There are gonna be a lot of high flyers and exciting games. This season is going to be good," Tyson said
Each and every season, teams lose their valuable players, seniors. It is then time for other players to step up and grab the reigns as leaders on the team. Losing seniors can make a huge impact on any team. This year the basketball teams believe that they are going to be able to play together and have a great season even with the loss of their seniors. There is lots of leadership still on the team, and more leadership developing each and every day.
"We lost some seniors so it is different. The rest of our team is coming together though so that we can still have a successful season," Dempsey said
Basketball season is always anticipated and this year is no different. Everyone is excited for the start of the season and the many accomplishments the team will achieve this year. "It's going to be a good season," Tyson said "We just gotta play together and our season will be great." With this being said, you know the players are excited and ready to go, therefore the fans have to be excited and ready to go with them. Support alongside the team leads to an excellent season.