Football Team Makes Playoff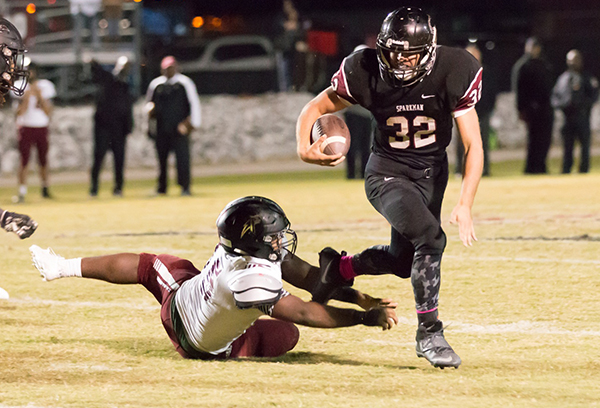 Advertisement
Hang on for a minute...we're trying to find some more stories you might like.
This football season is playing out to be one of Sparkman's best seasons if not Sparkman's best season so far. Coach White and the Senators have already secured the first winning season and playoff qualification since the 2006 season 11 years ago. Sitting at number three on the 7A region four standings, the Senators have only lost to two teams: Bob Jones (6-3) and Hewitt-Trussville (8-0) both by less than a touchdown.
The biggest change from last year's tenth consecutive losing season to now is the addition of a 148-30 overall head-coach, Laron White. In the time that he's been with the Senators he's earned the respect and admiration of his new players.
"I try to put the fun back into it, and fun comes with the winning," White said. " We work hard we do things right but also I want them to enjoy their time out here so that everything isn't so strict."
With the head coach change, positive results have included a clinched playoff spot, winning record and several player of the week awards to multiple players. The most recent player of the week award went to Ethan Caselberry, who picked off three passes in a 38-13 victory over Gadsden City last Friday.
"It's really an honor to know that the work I'm putting in is being awarded," Caselberry said.
White brought new playcalling to Sparkman with play calling that mixes with what players want to run and what the coaches want to run. This has been said to be an attribution to the Senators offensive success this season.
"With offense you need make sure your guys are happy," White said. "When you run the ball you want your receivers to be happy blocking, and when you pass it you want your running backs happy blocking."
T defense is one of the best ever allowing less than 35 points every game and the offense led by Devin Kimbrough and Hunter Gibson scores enough to average 24 points a game. Sparkman has never had a lack of talent and with a playoff caliber coach the talent of individual players is able to shine with a winning record.
"We have a lot of guys who can play well. You can stand out among your coaching staff thats a good thing because the kids get excited about it. It means something to them," White said. "Whatever excites the kids is good for us."