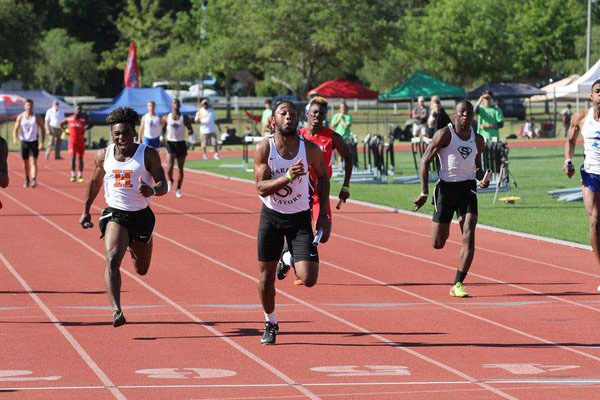 Track Takes Gold
The track team dominated the sprinting events this past weekend in Gulf Shores. The squad took gold in the girls 4×100 and the guys 4×100, and track standout, Lauryn Hall won gold in the 200 meter dash. Both Hall and the 4×100 girls team set state records en route to their gold medals.
The boys 4×100 relay team took gold in Gulf Shores. Senior Chase Parker started the relay then handed off to sophomore Charles Lewis, who built a lead for the Senators. Then junior Hunter Gibson kept and even lengthened the lead in the third leg before handing the baton off to senior Carlos Burwell who crossed the finish line first for the Senators.
"When I handed it off to Carlos I knew we were going to win because we had a lead and I knew Carlos, being the competitor that he is, wouldn't lose the lead," Gibson said.
The state championship feeling is new for this relay team. A few members of the team made a deep postseason run last year, but winning is a new experience. Although the team took gold and set a new standard for Sparkman track, the relay team did very little to celebrate.
"I was just happy for Carlos and Chase. They were so close last year and for this team to win gold in their senior seasons made everything better. Even though we won gold we didn't celebrate much. We all just got something to drink then went to go cheer on our other athletes," Gibson said.
The girls 4×100 team also took gold. Junior Chandler Robinson started this record breaking, state winning relay. She handed off to junior Lexi Rice who passed the baton to senior Aubrey Parker. Junior, Lauryn Hall brought it home and crossed the finish line first. The team ran the relay in 46.55 seconds shattering the old record of 47.2 seconds. The girls celebrated their victory by going to The Hangout and enjoying their night together on the beach.
"Honestly I knew were going to win state before the race even started. I had a lot of confidence in my team. We were ranked number one in the state and in the region and that recognition actually motivated us more," Robinson said.
Hall added to her collection with a gold in the 200 meter dash. Hall's run also set a state record; she ran a 23.98 breaking the old record of 24.08. Hall came into the race as the favorite, and she delivered. Hall plans to take on a big load next year and run in four events (100m, 200m, 4x100m, 4x300m).
"I felt relieved and tired when I crossed the line. I was also so happy and excited because it felt like I had ran a PR and possibly broke the record, so I was just  waiting for someone to come tell me what my time was, and I was ecstatic when they told me I broke 24 seconds," Hall said.G