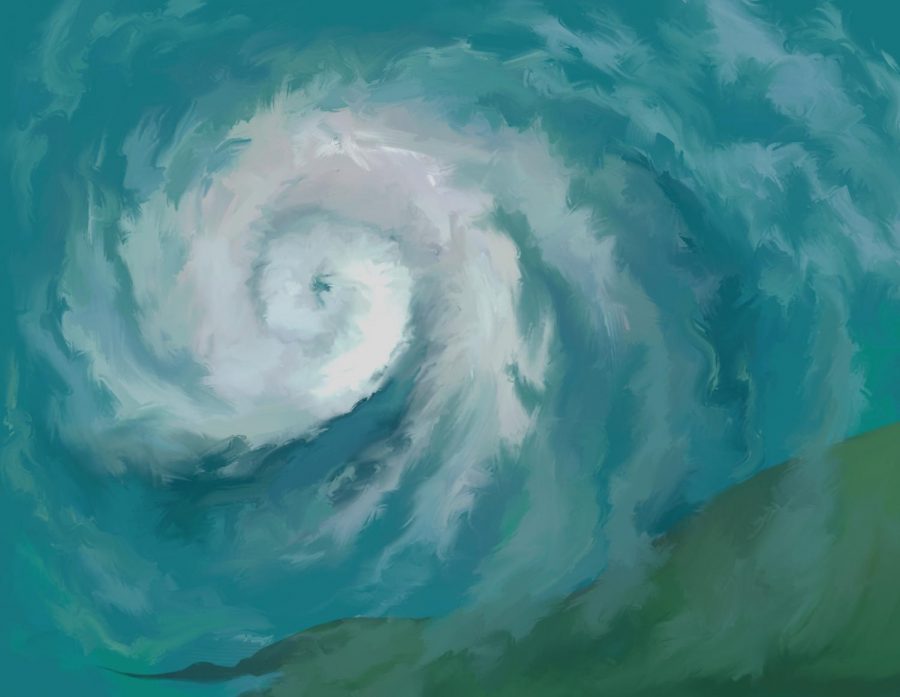 Photo Credit: Photo Illustration by Olivia Lake
Hurricane Season In Full Effect
You wake up one morning and start getting ready for school. After getting dressed in nice clothes and eating breakfast, you are ready to go. But when you open the front door, it is pouring rain.
Everyone has experienced that feeling once when cold rain comes down your back as you walk to the bus stop, and I would not doubt it with how this year's hurricane season has been making its rounds by raining especially when someone has to walk down a bus stop. That does not mean that this is the worst hurricane season, but it sure has been a wet one all right.
With over six  hurricanes and 12 tropical storms since May, lots of damage has been done with collapsed buildings, destroyed houses and heavily flooded areas due to these storms. It has been non-stop work after these dangerous storms to recover what has been lost with dozens upon hundreds of houses without power, along with people having to evacuate before the storm hits, causing even more problems to occur even before the weather takes its effect. Even though down here in Alabama, these hurricanes never do cross our path thankfully, but the excess weather usually tends to roll around here from a hurricane, resulting in pretty rainy weather.
There has been quite a big rainstorm lately with all of this rain, most likely from the Tropical Depression known as Nicholas, according to meteorologists in Alabama. That storm ended up bringing a huge wave of rain earlier this week, which began on Saturday Sept. 18. For the majority of the week, there were flash flood watches and warnings that spread all over Alabama, North Georgia, and Texas as Nicholas had made landfall around the area. Pouring rain and thunderstorms had begun to affect most of the areas around North Alabama with very heavy rain falling in the morning at 7 a.m., with it lasting most of the day and eventually ending that afternoon. 
But who said that it would stop there? After Monday, the rain had calmed down and eventually affected the afternoon on Tuesday and around the morning Wednesday. Unfortunately, everyone's backs may have gotten wet in this week of rain, especially when the rain would come out of nowhere and last for an hour or so. That could obviously have been considered "annoying".
Even though tropical storms Rose, Peter and Nicolous have already dissipated last Thursday, more pre-hurricane material is already in the works down in the Atlantic. Tropical Storm Sam is the most recent storm to develop in the Atlantic, but luckily it turned east, avoiding the coast of the U.S. 
All I can say right now is that if you are not used to being wet, either bring a towel or umbrella, probably both because this wave of rain starting off Autumn may give us a break for a while, because it is about to get everything soaked once again.