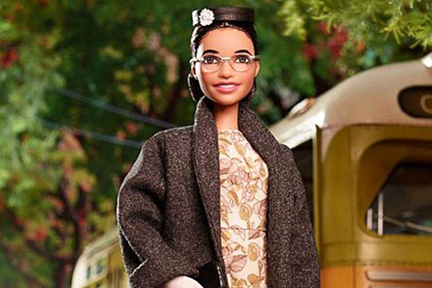 Courtesy of Mattel, Inc.
Barbie Starts New Inspiring Women Series
Barbie has been manufacturing fashion dolls with the American toy company, Mattel Inc. since March of 1959. These two companies just recently started a collection called "Inspiring Women Series". They have two dolls already, Katherine Johnson and Frida Kahlo, and they are going to be adding two more very soon. Each doll comes with educational information to explain to children the historical contributions from each woman.
One of the new dolls is Rosa Parks. Rosa Parks was an American activist in the civil rights movement. She is best known for her pivotal role in the Montgomery bus boycott. She denied to get up when a white passenger asked for her seat. She was arrested that day for violating a city law requiring racial segregation of public buses. The United States Congress has called her "the first lady of civil rights" and "the mother of the freedom movement".
The other doll that they are coming out with is Sally Ride. Sally Ride was the first American woman in space in 1983 at the age of just 32-years-old, which also makes her the youngest American astronaut in space. She joined NASA in 1983 and her first time out into space was for a space shuttle mission. Her job was to work the robotic arm and she used the arm to help put communication satellites into space. The satellites were for Canada and Indonesia. Ride was the third woman in space overall.
Barbie choosing to make these women into a collection of Barbie dolls has shown the present generations how important these women really were to our past. Each one of these women have made an impact that still affects the way we live today. The creation of these dolls is recognition of the accomplishments women have made in the past and will continue to make in the future.