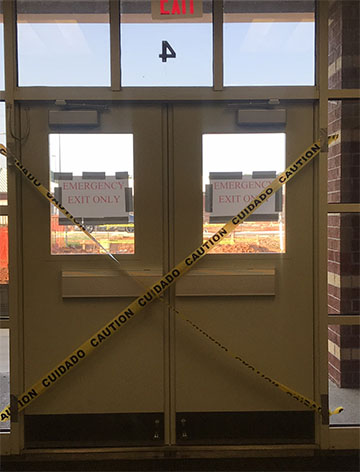 Students Put On Walking Shoes To Cross Street For Class
You are hot, you are sweaty, your legs hurt. No, you did not just run a marathon, you crossed the street from the Sparkman Ninth Grade school. As construction workers continue to make the new renovations to our school, crossing the street has definitely become more of a hassle. 
Walking to S9 to attend class was not an ideal situation to begin with however, the current construction outside of our school proves to make that situation just a little more vexing, as it stands in the space where the exit originally met the crosswalk. The space was cleared up to make room for the school's new fine arts center. Unfortunately, this dilemma means that the student body must now hike up their shorts and prepare to whine. 
With the temperature recently hitting new highs, it can feel unbearable to leave the comfort of the air conditioning and venture out into the blistering desert that is Alabama. Walking a small distance such as the one from S9 is now more like walking seven miles through the Sahara. Lugging a backpack and lunchbox surely does not help, and waiting for the crossing guards to let one pass can feel like an eternity. The outcome of the scorching heat is an excess amount of sweat. Sweating is not pretty and this can be especially tolling if it is how you begin your day. 
Being late for class is yet another result of the newly lengthened walk to S9, as crossing guards can only wait for so many students to catch up and cross at a time. One either makes it across before the crossing guard stops them, or they are just out of luck. The traffic you encounter just driving into S9 is bad enough, but the walk is just as time-consuming. 
At the end of the day, all this aggravation we are feeling now will blossom into gratitude. We will have a way overdue stunning new auditorium and fine arts center. So next year, when we are watching the first play being performed in our brand new auditorium, all the hardship we endured just crossing the street will be worth it. In the meantime, we all need the exercise anyways.