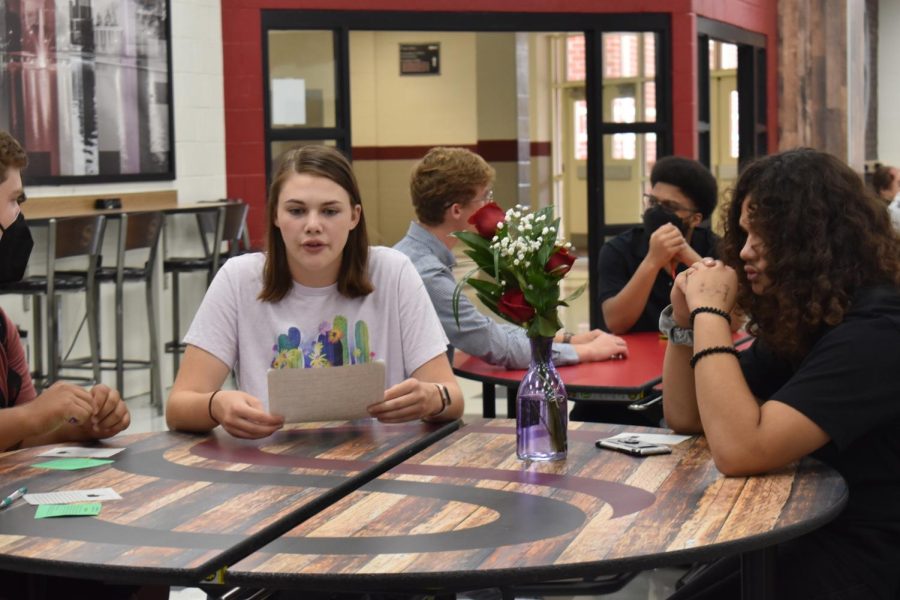 Photo Credit: Photo By Neela Cole
Program Helps Guide New Students To Sparkman
With the quickly growing population of the school, new measures have been taken to help new students assimilate easier. 
The guidance department has set up a program for students who are new to Sparkman. This program offers information about the school as well as a space to ask questions. It features a welcome brunch and information session, held the first week of school. 
"At the brunch we divided the new students by grade level," counselor Jessica Kalathas said. "Then we had admin and guidance introduce themselves this year as well to give a better who is who, as well as to describe their roles."
The counselors hope this program will help make new students have an easier time adapting to a new school environment. They formed the program with the goal of new students learning more about how school functions. They also wanted students to understand ways they could get involved.
"We have at least a few hundred new students per year and want to help them feel more welcomed and connected from the start," Kalathas said. "At the end of the brunch we gave every student a paper with a thumb up and a thumb down.  We have them write down things they feel good about and things they do not. The results from this seem to show that the new students feel engaged and hopeful, which is exciting."
Kalathas also hopes that this program will encourage new students to feel more connected to their fellow students. To do this, student ambassadors came to the brunch and led small groups. These small groups gave the new students a chance to get to know a classmate, as well as a less intimidating way to receive information. 
"After administration spoke," student ambassador Emily Centamore said. "We split up into small groups and new students were given the opportunity to ask questions to the ambassadors who would in turn offer assistance. Then, we played games to get to know each other until the end of the block." 
Having students heavily involved in this program was important to the counselors as they were brainstorming how best to help new students. The belief was that having students involved would make new students feel more welcomed, and inspire veteran students to make an effort to reach out to new students.
"I want to encourage current students to be more helpful and supportive of new students to Sparkman," Kalathas said. "It's hard to start at a new school, especially one this large. Having more friendly faces, and approachable people makes it so much less overwhelming. I'm hopeful our new program will help make new students and old students communicate better, and that we can continue to encourage and help students connect more to Sparkman."