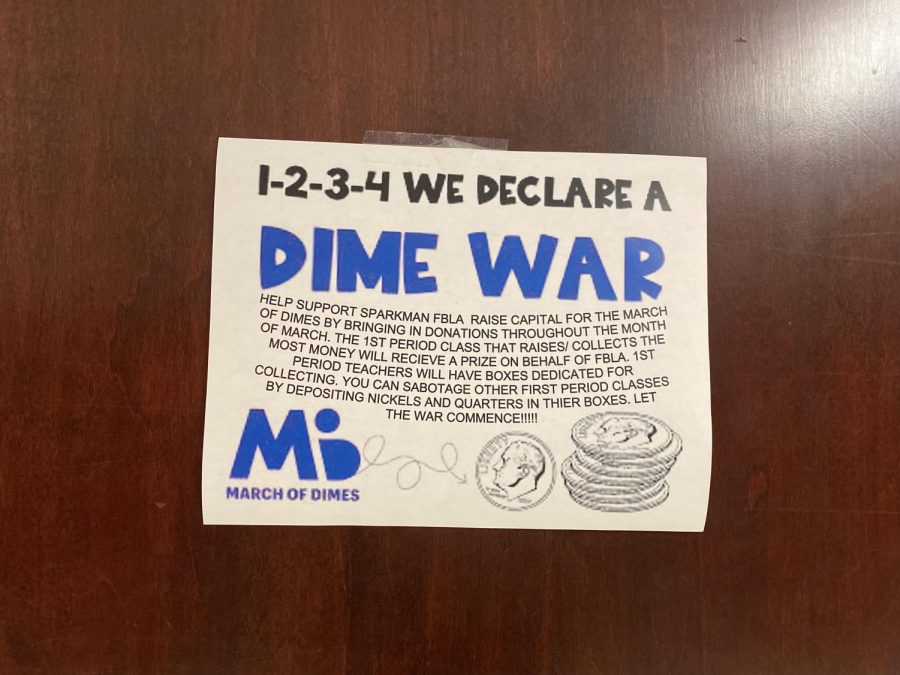 Photo Credit: Harrison Hollingsworth
Sponsor Talks FBLA March of Dimes
Crimson Crier: What is your full name and title?
Erin Coggins: Erin Coggins-co-sponsor of FBLA
CC: Describe what the March of Dimes is.
Coggins: The March of Dimes is a national organization that has been around for 80 years. The organization leads the fight for the health of all babies and mothers. It actually began with President Franklin Roosevelt's struggle with polio and the creation of the National Foundation of Infantile Paralysis. It later changed to the March of Dimes. Their program NICU Family Support offers comfort and information to families in the newborn intensive care units. 
CC: Describe what the FBLA does. What does it stand for?
Coggins: FBLA is the Future Business Leaders of America club. The club was created to help students in business courses learn more about business topics and how to present oneself in business situations. Community service and giving are huge parts of the organization. 
CC: Explain why the FBLA decided to start the March Of Dimes.
Coggins: The National FBLA has set the March of Dimes as the designated non-profit to support. FBLA has to do a fundraiser for the March of Dimes each year in order to fill our state requirements. 
CC: When is the March of Dimes?
Coggins: The Dime War begins March 7 and will continue through March 30. We are asking students and faculty to donate dimes or other forms of change in their first block classes. Teachers will have boxes in their rooms dedicated to donations. Students can sabotage other first period classes by depositing nickels and quarters. The first block with the most money raised will win a doughnut party. 
CC: Do you enjoy the event? Why or why not?
Coggins: This is the first time that Mr. Heller and I have sponsored this event. Our president Alyssa Wirth has organized the entire event, including coming up with the idea of doing a competition to get more people to donate. 
CC: Is there anything else you would like our readers to know?
Coggins: We really want this event to be a success. It is important to give back to those who are less fortunate than us or to give to causes that make our world better. The March of Dimes is an important non-profit. I mean what is better to support than newborn babies?