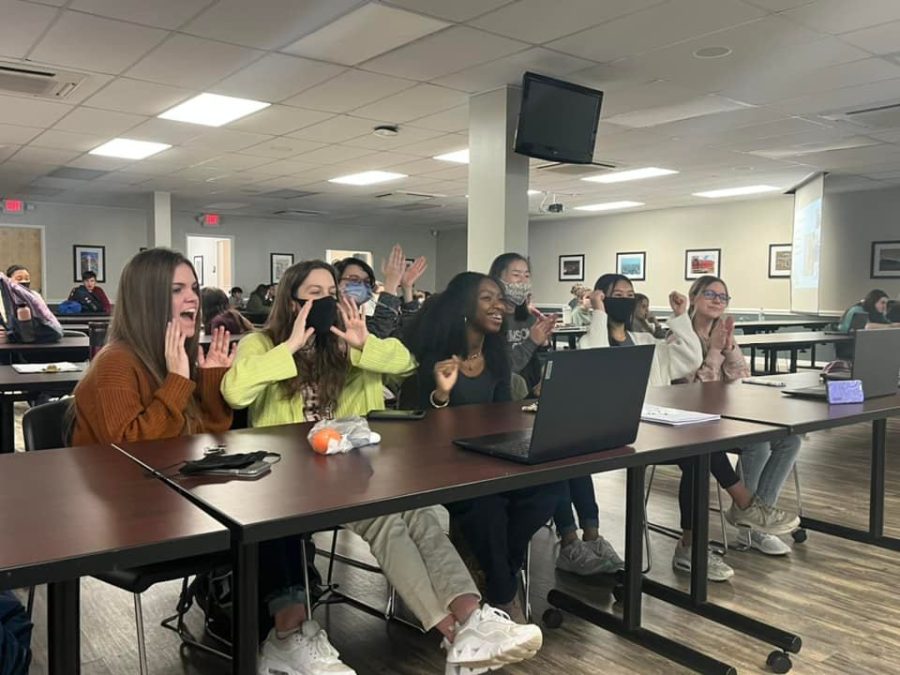 Photo Credit: Erin Coggins
Crimson Crier Staff Wins Multiple Awards At Journalism Competition
After producing four publications, the journalism students of the Crimson Crier staff went on to become state champions at the online Alabama Scholastic Press Association Convention (ASPA). This was the second year the competition has been moved online from the original location in Tuscaloosa.
Junior Tess Warren became Editor-in-Chief of the Crimson Crier for the first time this year after two years in the program. She has continued the prolonged winning streak of the staff.
"We started the year off with quite a few kinks, but I am proud of my staff to have pulled through with an All-Alabama award," Warren said.
The staff competed in individual awards from last magazines, timed on-site competitions and overall awards for magazines. Students were able to compete in various categories of design, illustration and writing.
"For the timed/on-site competition I got second place in design. I won second place for Newsmagazine Cover, and first place in my Feature Story for my "Stop Asian Hate, Instead Celebrate" story that featured five Asians/Pacific Islanders in our school," Warren said.
In order to win, first year journalism student Katrina Huynh believed that teamwork was essential to producing an award-winning magazine. The students offer helpful suggestions, correct grammar mistakes and each accomplish their deadlines while also cheering each other on so that the magazine could be produced. 
"Being a part of the team brings encouragement when I need it most and a goal I want to meet not only for myself but for the sake of my team as well," Huynh said
Since it was Huynh's first year, the experience of competition was new. She learned that compared to her past competition for athletics, journalism differed in components of all included design and structure. It altered her perspective and could potentially be a future career for her. 
"The competition opened my eyes to a world of journalism outside of the state, let alone our school. It made me want to work harder and strive towards success in a beneficial way for the staff and the school," Huynh said. "I plan on pursuing journalism senior year and possibly after high school."
Although the awards show was the draw to the convention, several sessions were offered between awards, so students could learn from advanced writers. Students attended three sessions in varying topics from investigative journalism to grammar and guidelines of a well structured story. Senior Emma Headrick is a third year journalism student that attended the online sessions.
"Rather than being packed like sardines into a banquet hall with hundreds of other student journalists, listening to journalists tell their stories face-to-face, I found myself sitting in a room at the Madison County Tech Center with only my own staff and a few student journalists from New Hope High School, watching the opening session on a projector," Headrick said. It was a little saddening, spending my last convention in Madison County but I will forever be grateful for the memories I made and the legacy I was able to leave behind."
The staff hopes to continue their award-winning magazine by instilling improvements. They have reduced their magazine by 20 pages and continue to build up the writing and design skills of the staff. 
"Spending so much time together, perfecting our magazine, and then seeing it dominate at competition was satisfying above all else. It was nice to see all of our hard work pay off," Headrick said.