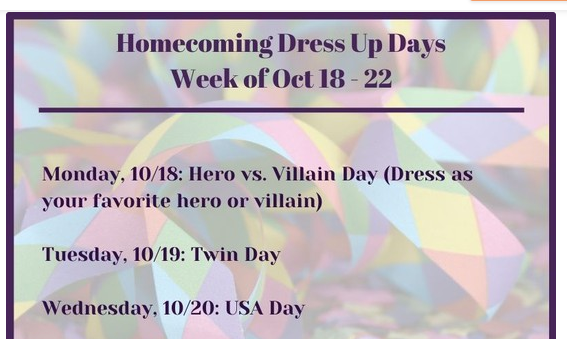 SGA Announces HOCO Dress Up Days
October 15, 2021
After a year of virtual and in person school last year, it is time to get back into the traditions of every high school experience-homecoming week.
Homecoming week is filled with opportunities to dress up and show school spirit. As teenagers, the desire to dress up is often limited to Halloween, but homecoming week provides a fun chance to do something a little different for a week.
The homecoming week is scheduled for Oct. 18-23, with the homecoming game against Huntsville High and the dance on Saturday.
The homecoming dress up days are as follows:
Monday: Heroes vs. Villains- Dress up as your favorite superhero or villain from comics or even TV shows. Students often have fun dressing up as a hero and their friend the matching villain to make for a perfect day and picture.
Tuesday: Twin Day-The classic Tweedledee and Tweedledum costume is the first thing that comes to mind with twin day. Pick your favorite duo and dress up with a friend to become doppelgängers.
Wednesday: USA Day- This day is a great opportunity to pull out the July 4 decor, and wear red, white and blue to represent our country.
Thursday: Decades Day-From the 20s all the way to the 2000s, all decades are encouraged as costumes. Whether you wear a poodle skirt or bell-bottom jeans, this day provides diversity.
Friday: Color Wars-Students will dress up with their assigned grade level. Seniors will wear black, Juniors will wear Crimson and Sophomores will wear gray for the school's colors.
The dress up day themes were chosen after careful consideration from SGA. All costumes are expected to fall within the guidelines of dress code.