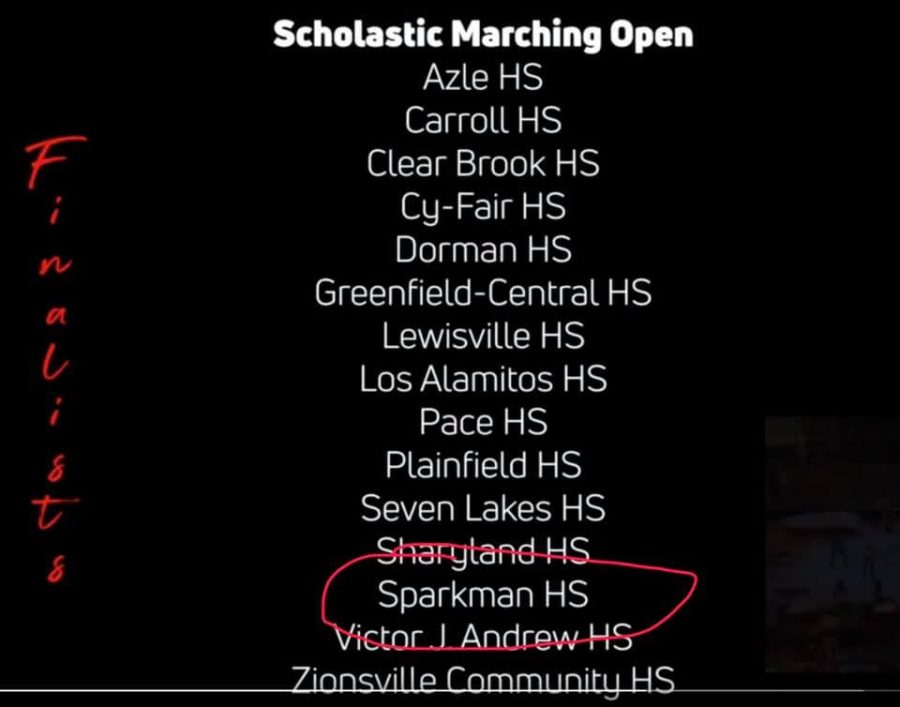 Drumline Places in Virtual Competition
As the Drumline continues to progress in their skills and abilities, many have begun to realize the success they have and are starting to acknowledge it not only at school but worldwide as well. 
The Drumline has made the Top 15 in WGI Finals for high school groups around the world, giving the members recognition resulting from the hard work that has been put into their performance. Senior Jacob Hiles and the other members on the Drumline have had to put a significant amount of time and energy into their practices.
"We practiced almost every school day during fourth block, after school on Mondays, and, on the first weekend of every month, we had practice after school on Friday and most of the day on Saturday," Hiles said.
With the Drumline moving to WGI Finals, Jackson Albert, the Percussion instructor, has had a very vital role in the making of the performance and is dedicated to his performers. As they continue to better themselves, change is constantly taking place in how they conduct themselves in their daily performances. 
"The percussion section has grown and improved tremendously during the course of the year (which started for us via video assignments in Google Classroom as soon as schools closed for Covid in March 2020)," Albert said. "COVID or no COVID, growth in maturity and musicianship is expected throughout the year.  The students have been steadfast in their commitment to not allow the current circumstances to affect their goal of achieving excellence.  Our motto for this year has been "despite it all, we will be excellent." 
Even with the amount of dedication and commitment by the members of the Drumline, Covid had definitely had an effect on the way the season was going to occur. Not only did it make practicing hard with strict protocols, but it also had a major impact on the team when someone was quarantined. 
"As an ensemble, we have lost close to one month of rehearsal time due to contact tracing this season alone.  Not to mention the in-person shows we have done that certain students were not able to attend due to contact tracing.  Some of the students were seniors, and will not get those performance opportunities back," Albert said. 
As the Drumline continues to prepare for finals, Hiles gives advice for upcoming performances and encourages students to do their best now and for the future.
"I wish the ensemble good luck in their future seasons and hope they continue their momentum into the years to come," Hiles said.