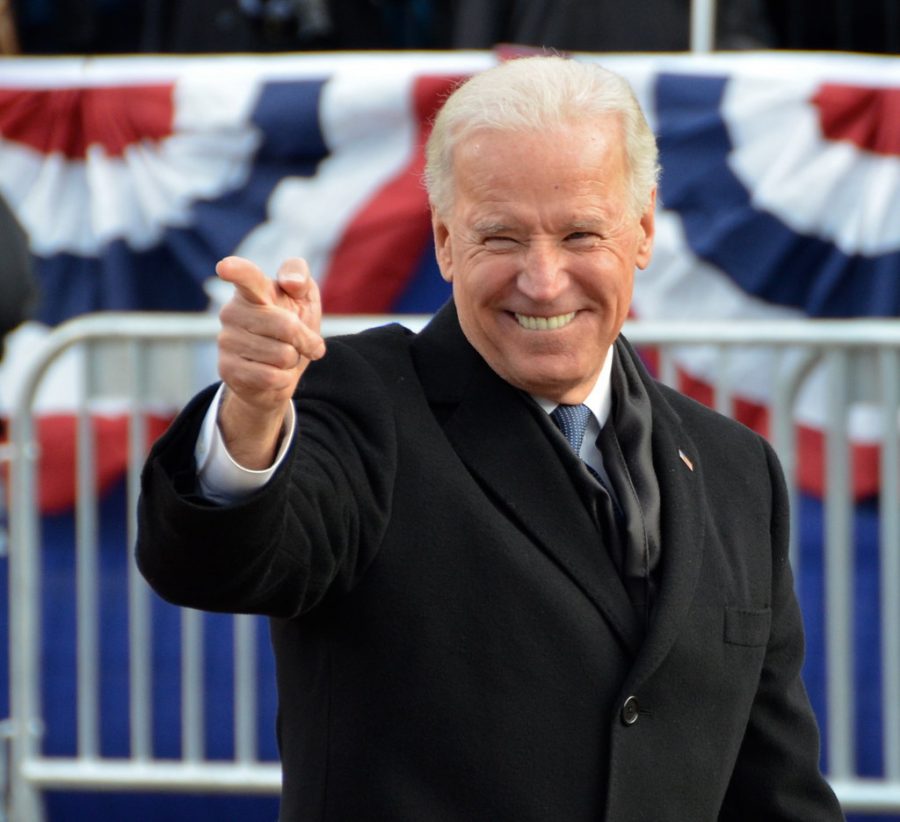 Photo Credit: "Classic Joe Biden" by afagen is licensed with CC BY-NC-SA 2.0.
Biden Sworn In As 46th President of the United States
On Jan. 20, 2021, the 46th President of the United States of America, Joseph R Biden was sworn in, along with the first woman and woman of color sworn in as Vice President, Kamala Harris.
Biden was sworn in under many unusual circumstances, including not only a heavy military presence, but also a significantly reduced crowd due to the pandemic. After the attack on the Capitol Jan. 6th, extra precautionary measures were taken not only in the nation's capital, but also in the majority of the state's capitol buildings as well.
"As always, our first priority is to protect people and property, and the safety and wellbeing of our National Guard personnel and their families," Army Gen. Daniel Hokanson, chief of the National Guard Bureau said during an inauguration security briefing with Vice President Mike Pence Thursday. "I visit with these men and women every night and they understand the importance of this mission. They are also proven, prepared and proud to do their part to ensure a peaceful and safe inauguration of our incoming commander-in-chief."
Before leaving Delaware for Washington D.C. on Tuesday night, Biden delivered an emotional farewell speech to his home state at a military headquarters named after his late son, Major Joseph R. "Beau" Biden III. Beau passed away due to brain cancer in 2015, after serving in Iraq. In the speech, Biden recalled the night that Dr. Martin Luther King Jr was killed, before saying:
"12 years ago I was waiting at the train station in Wilmington, for a black man to come pick me up on our way to Washington, where we were sworn in as President and Vice President of the United States of America," Biden said. "And here we are today, my family and I about to return to Washington, to meet a black woman of South Asian descent, to be sworn in as President and Vice President of the United States.
Biden also spoke of his late son Beau, and said emotionally that when it comes his time to pass, Delaware will be written on his heart, and the hearts of all the Bidens.
"As I told Beau, Hunter and Ashley waiting for Barack on that station, I said 'Don't tell me that things can't change, they can, and they do,'" Biden said. "That's America, that's Delaware. A place of hope, and light and limitless possibilities. And I'm truly honored to be your next president, and I will always be a proud son of the state Delaware."
In Washington, 400 lights were put up around the Lincoln Memorial's reflecting pool to represent the 400,000 American lives taken by COVID-19. Biden and Harris both came to the lighting Tuesday night to honor those lives, prior to being sworn into office the next morning.
"This is a great nation and we are a good people," Biden said in his inaugural speech. "Over the centuries through storm and strife, in peace and in war, we have come so far. But we still have far to go. We will press forward with speed and urgency, for we have much to do in this winter of peril and possibility. Much to repair. Much to restore. Much to heal."
In his address, Biden pressed a main theme of unity, among the parties and the people. He stressed the importance of how important unity is for America to move forward and be a strong democracy.
"I will always level with you. I will defend the Constitution. I will defend our democracy. I will defend America. I will give my all in your service thinking not of power, but of possibilities," Biden said. "Not of personal interest, but of the public good. And together, we shall write an American story of hope, not fear. Of unity, not division. Of light, not darkness. An American story of decency and dignity, of love and of healing, of greatness and of goodness. May this be the story that guides us, the story that inspires us. The story that tells ages yet to come that we answered the call of history. We met the moment. That democracy and hope, truth and justice, did not die on our watch but thrived."