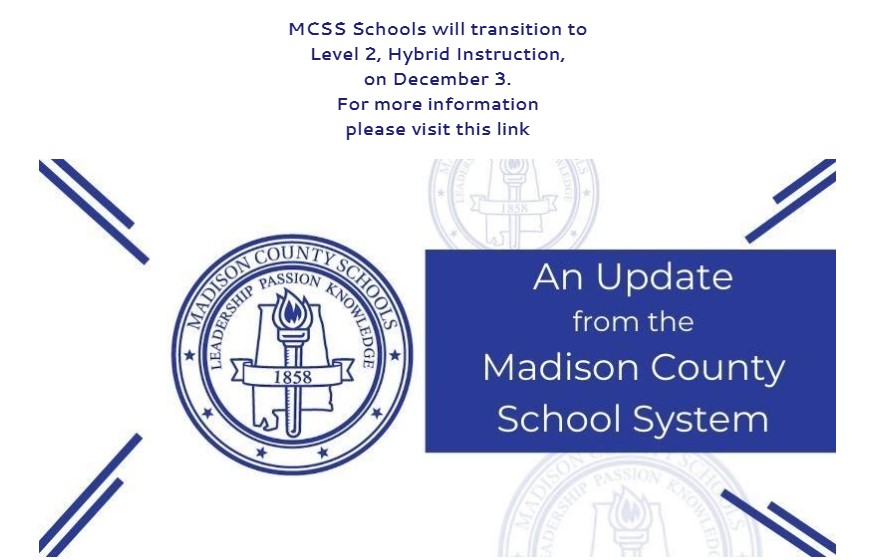 Screenshot
System To Continue Hybrid Schedule After Holiday Break
Typically, when teachers are in school, they expect all their students to be there all together, but because of the rising cases of COVID, only half of the students are there at a time.
At the beginning of the school year, Madison County started out on the hybrid schedule, but went back to school full time until recent changes with the rising number of students getting COVID and being in quarantine.  All precautions are to be taken and enforced during the hybrid schedule. The school system is preserving students' ability to go to school while keeping students safe. Maintaining proper social distance standards and wearing masks at all times are required in all Madison County schools. Breakfast and lunch are now delivered to the classroom instead of being eaten in the cafeteria.
"I believe the hybrid schedule will help limit the spread of COVID because there are a lot less students in the school building," Principal Christopher Shaw said.
The new hybrid schedule allows for students to still be allowed to continue face-to-face learning. Students are divided into two groups based on their last name. A-K will have face-to-face instruction on Monday and Tuesday, Wednesday is e-learning, and L-Z will go Thursday and Friday.
"My advice to students is for them to stay engaged in their lessons whether being here at school or working remotely. Also they need to be communicating with their teachers if they need any extra help,"." Shaw said.
The new hybrid schedule has brought mixed feelings for parents and students alike.
"Even though it is a change, I feel like the hybrid schedule is good for the school, I think it ensures students and teachers safety while doing face-to-face learning," junior Aubrie Bynum said.
Madison County superintendent, Allen Perkins, recently announced that the hybrid schedule will continue after Christmas break to ensure the safety and limited spread of COVID. The hybrid schedule will start Jan. 4 and extend through Jan. 15.
"Continuing phase two of our plan of hybrid learning will allow us to keep students safe," Perkins said