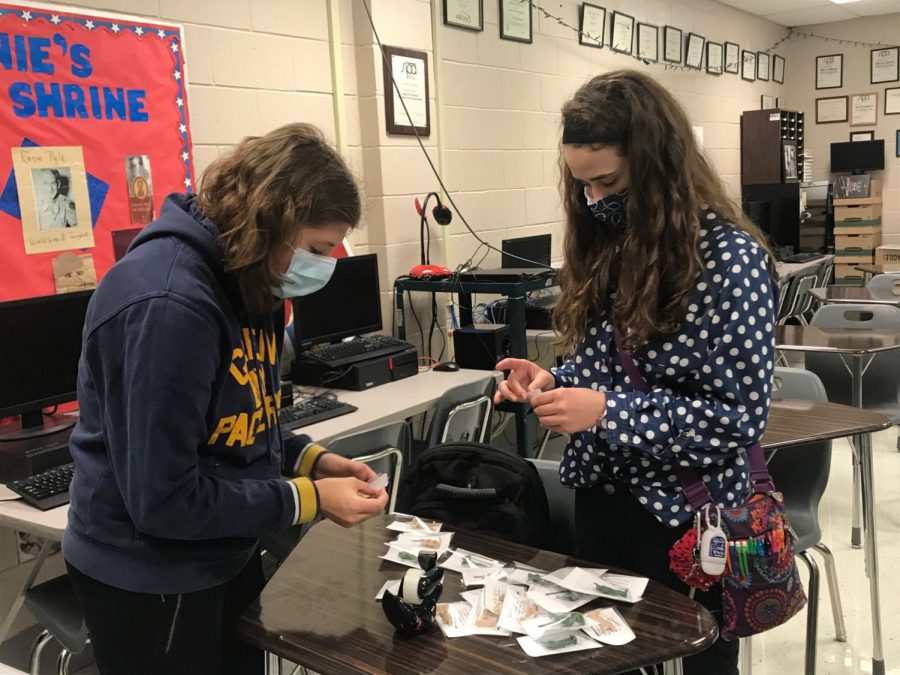 Clubs Gear Up Despite COVID
Due to COVID-19, school clubs are just getting started; however, for most clubs it is not too late to get involved with clubs such as Teens for Troops, Young Americans Foundation (YAF), First Priority and National Honor Society (NHS).
Teens for Troops
Teens for Troops is a club that got started about four years ago in an effort to honor local veterans, while taking the place of the history club.They hold monthly meetings to plan events for veterans and they also participate in the National History Day competition. The club is currently working on putting together Veterans Day presents for teachers, writing cards to local veterans and scheduling their Blue Star Mothers' drive. They plan to give local WWII veterans holiday packages as their next major event since they could not hold their annual Veteran's Day assembly due to COVID-19. Anyone is welcome to join Teens for Troops at any time, just be sure to pay the $15 dues.
Erin Coggins, the sponsor of Teens for Troops, decided to sponsor the club to "teach our students to have respect for these men and women who fought and who fight for our rights as a country."
Young Americans Foundation (YAF)
YAF is a conservative club started by senior Jacob Hiles. Hiles is the Founding Chairman of the club. The club believes in individual liberty, a strong national defense, free enterprise and traditional values. They have held a couple of virtual and in-person meetings so far and are planning for more. Even with the late start, they were able to do a 9/11 event to remember the lives lost. They set out 2,977 US flags out at the school to represent the devastating amount of lives lost on that day. Students are welcome to join by talking to Mr. Stevenson or Mr. Dolan, or by filling out a google form on the club's Instagram. They are discussing inviting an Alabama politician to come and speak for their next event. The club makes sure and helps members so that they can defend their views in politics.
"My favorite part of the club is getting to promote and defend my beliefs," Hiles said. "I have seen people who agree with me but do not follow politics as much as I do say a bad argument in a debate and lose the debate. I want to make sure that my members can defend their beliefs."
First Priority
First Priority is a student lead Christian club where students can share their faith with fellow peers. The club usually gets started at the latest in September after the "See You at the Pole" event, but with all of the precautions for COVID-19 they had their first meeting on Nov. 10. Senior Sarah Taylor helps plan and delegate the meetings, while also getting materials for the club. Taylor believes First Priority is an excellent way to make connections, encourage one another and share your faith.
"It's giving me an opportunity to have a voice and be bold about what I believe and share with others the God that changed my life completely. High school can be such a stressful time for many people and so I think having some encouragement and the light of Christ to fill our school is such a blessing," Taylor said.
National Honor Society (NHS)
National Honor Society is a club that has four pillars: Scholarship, Leadership, Character and Service. Members are expected to uphold these values. Students are normally required to complete 40 hours of community service, but this year it is just 20 hours with the effect COVID-19 has had on clubs. Letters are mailed out to current sophomores and juniors, who have a 3.800 cumulative GPA or higher, in January. After a letter is received, the student is eligible to fill out an application. Sponsor Amber Kimbrell has been the sponsor of the club for six years now. Even though members have already been accepted, the club is just getting started with their service projects.
"I've always liked to do community service, and give back to my school and my community. You get to see students engaging with the community in a positive way, and I really like that" Kimbrell said.