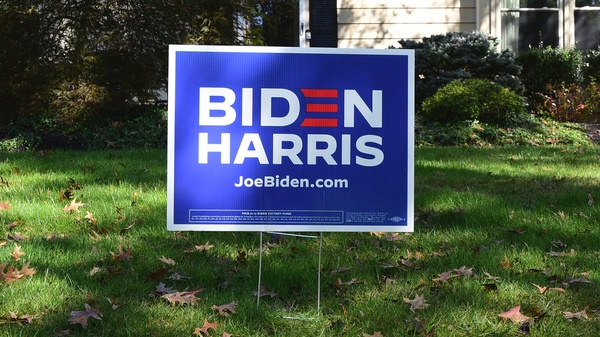 Grace Moore
At the end of a long, exhausting race, the United States finally has its answer. Former Vice President Joe Biden will be the 46th President of America.
In 2016, Hillary Clinton's campaign knew they had lost before midnight on election night. However for the Biden and Trump campaigns, the answer remained unclear up until [whenever results are final]. With Biden already flipping three states with electoral votes that went to Trump in 2016 to vote 'blue', he had a lead on the President since late Tuesday night. By Wednesday afternoon, Trump's campaign was calling for a recount in Wisconsin as Biden won the key battleground state. But by the end of the week the country saw a shocking switch in Georgia and Pennsylvania. While waiting on Nevada to be called, Biden gained a lead in the other two battleground states. It ended up being Pennsylvania that won Biden the electoral votes he needed to win.
Democratic figures such as the future Vice President Kamala Harris and Former President Barack Obama and others were all on the same page throughout the election: Stay in line, and make sure every vote is counted. This was continuously tweeted and put out on social media, and it was vitally important to Biden's win, with the mass amount of voters mailing in ballots and voting early due to the pandemic. This is also the reason Americans did not know the results for nearly four days after the Election.
Once The Associated Press called Biden's victory, he took to the stage with his Vice President-Elect Kamala Harris in his home state of Delaware Saturday night. Biden preached unity and a shiny new vision for America.
This all comes despite the President's false claims that he won the election "big" on Tuesday night. Trump has insisted with no proof that the election was fraudulent, however it is well-known that counting votes has never stopped on election night itself.
Biden and Harris made history in several ways in winning this election. Biden will be the oldest president to ever take office, turning 78 later this month. Harris is the first woman, the first black woman, and the first woman of Asian descent to be vice president of the United States.
Upon learning the news, celebrations broke out not only in America, but around the world. Fireworks were seen from Washington, D.C. to Sydney to London. Whether or not the votes are recounted, it is apparent who the people believe the 46th President of the United States is.