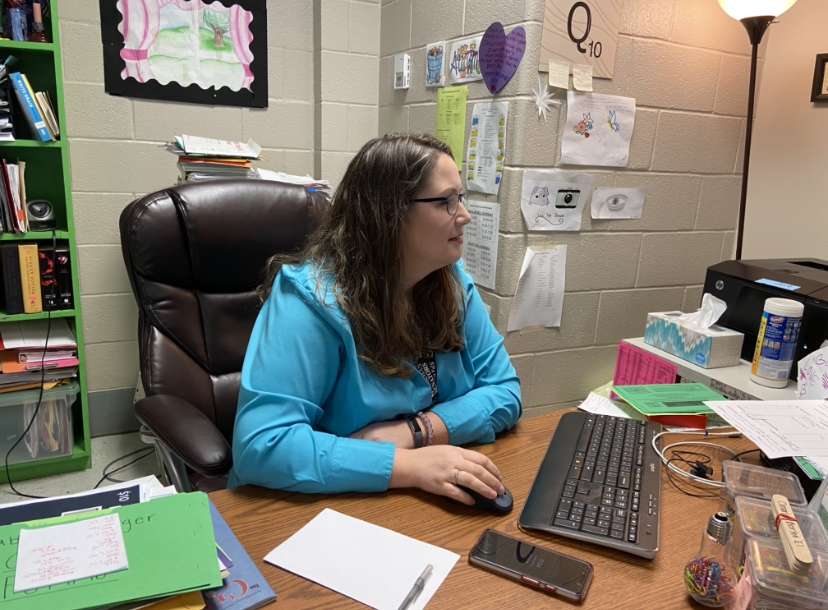 Photo By Emma Headrick
Literary Magazine Adviser Wins Adviser Of The Year
After a long day of going to sessions and assisting her students around Alabama University, Renee Quaife sat down in a large ballroom to watch the ASPA awards ceremony begin. She applauded every time a Sparkman student won an award – which happened fairly often – and spoke to Mrs. Coggins when she could raise her voice loud enough to be heard over the sea of student journalists. She thought that it was going to be an awards ceremony like every other until the ceremony neared its end and the awards everyone had been waiting for were announced.
"Renee Quaife," the announcer called out from the stage.
Quaife's heart stopped. Mrs. Coggins stood up with her and pulled out her camera to capture the look on her face. Quaife stumbled to the stage in a shocked daze to accept her award. A sea of Sparkman students cheered for her in loud screams and booming rounds of applause and all Quaife could do was smile and shed a few tears. After 11 years of guiding her students and publishing the Sparkman Silhouette, Quaife won the Adviser of the Year and she could not have been happier.
"I cried when it was announced," Quaife said. "Adviser of the year really means a lot too because lit mag is above and beyond. That class is not just something I do in the classroom."
Renee Quaife has been part of the Alabama Scholastic Press Association for as long as she has been a teacher. She has spent countless hours and endless days helping her staff to prepare the Sparkman Silhouette each year, leaving her staff with nothing but good things to say about her. Quaife has definitely left her mark on every student she has ever taught, lit mag staff or otherwise.
"She's always doing everything all the time," Senior Danielle Patterson said. "But it makes her happy. I've never seen her go into class without smiling or saying hi to someone, even when she's going through tough times and I really appreciate that."
Quaife may only be an adviser but she does far more than just advise her staff. When her editors are hard at work over Spring Break, scrambling to finish the Silhouette before their deadline, Quaife is right beside them. She has become a kind of mother figure to many of her students, proving that Quaife truly goes above and beyond when it comes to the lit mag.
"I had a piece that was really personal to me that I wrote. After class, I went to her and we just cried and she comforted me," Patterson said. "The piece was just very vulnerable and she's always been there for me."
Quaife was given the chance to win Adviser of the Year when Junior Madison Duboise sent a letter into ASPA explaining why she thought Quaife should win. Duboise went into detail about Quaife's enthusiasm and effort when helping staff members with the Sparkman Silhouette. Along with advising her students, Duboise also put a spotlight on Quaife's caring nature. She shows a great amount of appreciation for her students that truly makes them not want to give up.
"From walking at the back of the line with students at DC who could not keep up, to waiting behind on the students that woke up late, Mrs.Quaife never leaves behind others and is someone that you can always count on," Duboise said.
Mrs. Quaife has had a large impact on her students and on the Alabama Scholastic Press Association. Winning Adviser of the Year comes as no surprise to the ones close to her and she certainly has many awards to come in the future.