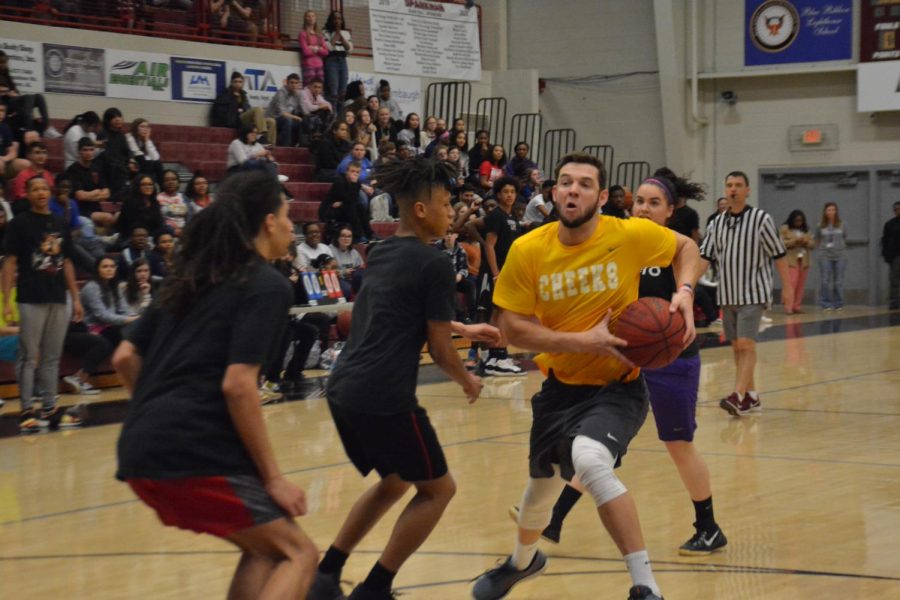 Photo by Kate Irving
Annual Faculty, Student Basketball Game Raises Funds for Make a Wish
With the whoosh of a ball and rapid tapping of shoes, the basketball game between the faculty and students took place once again. 
"The student/faculty basketball game has become an annual tradition to benefit the Make-A-Wish foundation," SGA officer Saylor Cuzzort said. "It is a great opportunity to get students involved and a friendly competition that everyone always looks forward to."
Students attended the game during AO, or Academic Opportunity, at the cost of 4 dollars a ticket. All proceeds will go toward granting a wish this spring. The goal is to raise $10,000. 
"This year, SGA will be granting a wish for a girl who's wish is to go to the 9-11 Memorial in New York City because she was born on 9-11 and her dad is a firefighter," Cuzzort said. "We have a dodgeball game, coin drive and an entire week dedicated to raising money for her wish." 
Per tradition, the faculty defeated the students by 18 points. The student team developed too late to counter the shooting by the faculty. 
"I just gave the ball to Coach Salaam and let him take it to the hole," coach Jamie Coggins said.