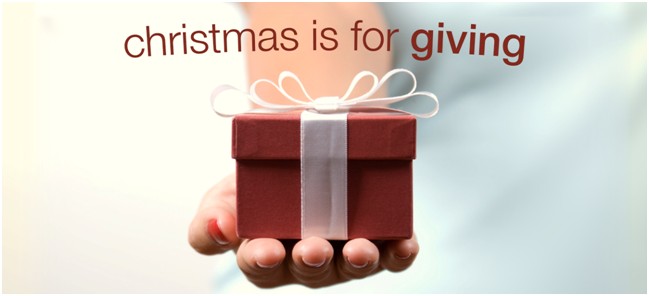 Photo Illustration by Lela Rasmussen
Considering Giving the Gift of Volunteering This Holiday Season
Every year, holidays inspire the giving spirit into friends, family, neighbors— even one Ebenezer Scrooge found himself joyful and merry on Christmas Day.  Charity donations are a common thread of thinking throughout December and most shoppers do give their part to the bell-ringing Salvation Army or the much-and-many one, three or five dollar donations at grocery store checkouts.  However, around Huntsville there are a vast majority of charities and shelters that can use your holiday well wishes too.  Here are two very important ones.
THE ARK INC.
            The Ark has been a non-profit, no kill animal shelter since March 6, 1990.  It was a response to animals in need of assistance in the community and, for the past 27 years, they've helped improve the lives of homeless animals through rescue and rehabilitation.  Their mission statement is as follows:
To rescue and provide homes to as many in-need animals as we are capable of
To provide veterinary care for each animal, including spaying/neutering before adoption.
To maintain a no kill policy except for reasons of mercy or dangerous temperament.
To promote humane treatment of animals through a humane education program
Donors can give through Paypal, and all proceeds go towards helping the animals within the shelter.  You can become a member for a fee and receive newsletters, or volunteer at the Ark itself.  Buy and give items on their Wish List which consist of necessary medicines, treats, dog and cat food and necessary cleanliness products for the kennels these future pets are kept within.  You can even donate clean aluminum cans which the Ark recycles for cash!
MANNA HOUSE
            Manna House has been operating since 2004 and is a public charity that provides food to those in need.  They're supported by contributions from individual's churches, civic groups, and businesses.  They run out of the Huntsville Dream Center which is a non-profit organization dedicated to serving the communities of Huntsville, Madison County and those around the region.  Their services are as follows:
Nightly distributions every Mon, Wed and Thurs from 4pm-7pm.
A daily provision of food for individuals, families, and the homeless in our community.
A backpack program called P.E.R.K.S. (Personal Emergency Resources for Kids in School) that provides snacks and ready-to-eat foods for elementary school children that lack adequate food supplies during the weekend.
Mom-to-Mom which provides diapers, wipes, clothing, equipment and lots of love to expectant mothers, new moms, and preschool moms.
To donate, all you have to do is go to their website and fill out their form.  You can either choose a one time donation or a recurring donation.  If recurring, you can choose the frequency of it and the day in which you'd like it to start.  If you'd like to volunteer personally, just come during Mondays, Wednesday, and Thursdays from 4 p.m.- 7 p.m., and if your group would like to volunteer just contact via email or call them on their business phone to get set up.