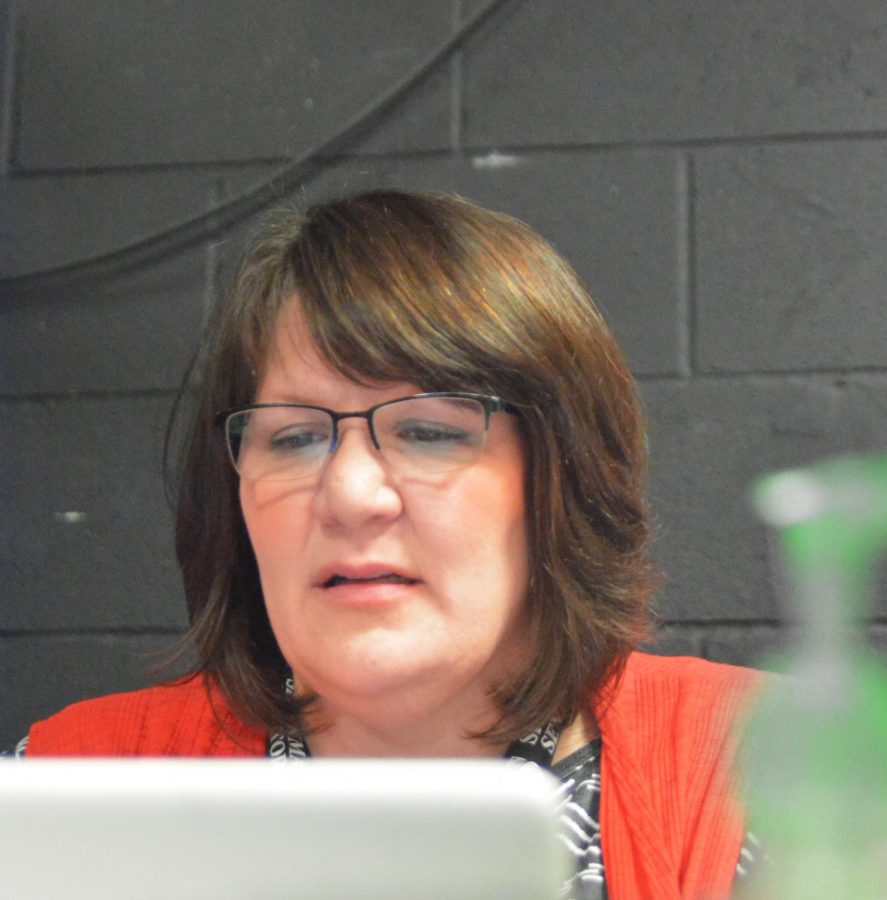 New Theatre Teacher Expresses Passion for Teaching the Arts
For the new theatre teacher, Kristin Tumminello, theatre is a way of life.
The theatre bug bit Tumminello when she was a high school student in Florence Alabama. She traveled to Lee High School in Huntsville to take voice lessons. Her teacher Vivienne Atkins was her voice teacher. Through Atkins, she met Dedorah Fleishman. Fleishman was a long-time artist and residence at the Academy for Academic and Arts (AAA). They taught her many things that would later help her in theatre.
 "Because of them, I could pursue performance," Tumminello said. 
Besides giving private lessons in other cities, Tumminello has taught technical theatre and choir at AAA. Tumminello has been around theatre all her life. She appreciates theatre because there are many elements she can form theatre into.
"Theatre is everything. You look at theatre and you see visual art, dance, science, math, English, and history no matter what I'm in the mood for it is there."Tumminello said. 
Some students Tumminello taught have gone onto New York and Broadway. Some kids are in college with full scholarships. According to Tumminello theatre students are usually highly successful because they have learned how to speak and communicate. They are sought after because they have this ability to communicate and care that other people don't. Tumminello appreciates the fact that she has kids who are ready to learn. She has kids who are hungry to have something that challenges them and sends them beyond where they've been.
 "It's not about those external pressure the question is, 'Are they growing?'" Tumminello said.
Her goals for the theatre program is growth. She wants her kids to have a backbone and for the kids who do this program to know the fundamentals. So they'd be able to know what they are doing when they leave her. The plays that are planned for this year consists of 146.flame and Children of Eden. For 146.flame she was reading plays after plays and read through it and immediately stopped thinking she found the play.
"You just get that feeling, this is the one, it's the one its got to be," Tumminello said. 
For Children of Eden, she wants to showcase everyone. So she looked for something that had a lot of parts and was a big show that they'd feel proud of. Her goal is to get them involved, as in doing things outside of here and being mentors for other schools in the district. 
"We are the only school that has an active theatre program so we have to be the ambassadors for theatre and get other schools involved in what we do," Tumminello said.
She adapted to Sparkman by redefining her space for the year. While being ready for the big move into the new theatre. She knew nothing about Sparkman High School theatre prior and has never seen a Sparkman show. A parent called her last year in the spring and talked about the opening for theatre. This unknown parent told her everything. 
"I came in just not knowing, and I have been pleasantly surprised at every turn," Tumminello said.