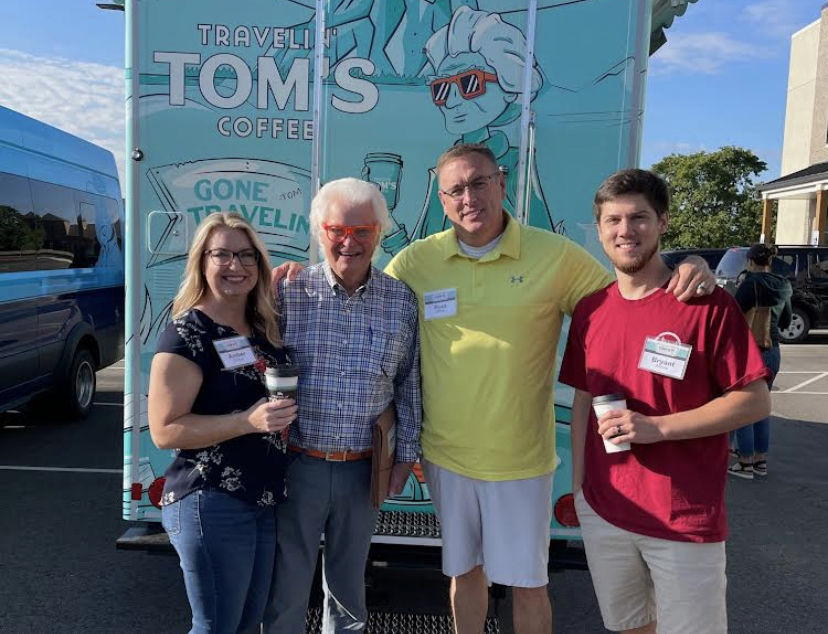 Photo Credit: Photo courtesy of Russ O'Rear
Former Principal Operates Mobile Coffee Truck
From principal to coffee truck owner, Russ O'Rear has had a complete change in lifestyle. O'Rear owns three Kona Ice franchises and his corporate office decided on adding 16 coffee trucks-one of them being in O'Rear's area, letting him make the ultimate switch to the coffee business and supply high schools with a convenient morning pick-me-up.
Travelin' Tom's Coffee Truck got its name through founder Tony Lamb in an effort to honor his father. O'Rear follows this philosophy by incorporating his own family into the business with his wife and co-owner Amber O'Rear, as well as his son-in-law, Bryant Atkins acting as operations manager.
"We do get to work together which is one of my favorite parts of the business. It truly is family owned and operated. We just all chip in where we can to make it work," O'Rear said.
The O'Rears became interested in coffee through their trust in CEO Tony Lamb. Another factor was the high demand for coffee in the economy.
"Lamb is a genius. I have been around a lot of leaders and he is hands down one of the best," O'Rear said.
With the shift to coffee, O'Rear has inevitably faced challenges. He had to learn how to use coffee equipment as well as learn all of the different options available for coffee.
"It has been a huge learning curve, since we got started in August. I do not even drink coffee. I had to learn from Amber for about a month to know what all the options were," O'Rear said.
Being a principal was able to play a role in his coffee business, posing as an opportunity to sell coffee at schools. As a principal, O'Rear was able to work with teachers and students, and he has not left that love for school behind.
"
"So many people have no idea what awesome things the faculty/ staff at each school are doing. It just made me proud to see them work so hard and be successful. I still miss the kids. It was my favorite part by far," O'Rear said."
— Russ O'Rear
Because the coffee truck is able to travel as opposed to a building, different locations are important for determining worthwhile business. Schools have proven to be a big hit for the coffee shop.
"We do a lot of corporate business where we go onsite to treat employees. The hard part is we don't have set hours with a set schedule," O'Rear said.
The coffee truck offers a wide variety of flavors. Their most popular flavors being Caramel and Mocha Frappes. They even feature choices for those who are not fond of coffee.
"We also have hot chocolate, hot tea, apple cider, spiced chai and lemonade for non coffee drinkers," O'Rear said.
Travelin' Tom's Coffee Truck is looking for employees. High school seniors looking for a job after they graduate are highly encouraged. If anyone is interested, they can call 256-924-8933 or email [email protected].
"I would love to keep learning, developing the brand. With the addition of some great staff members, we hope to expand to multiple trucks down the road," O'Rear said.