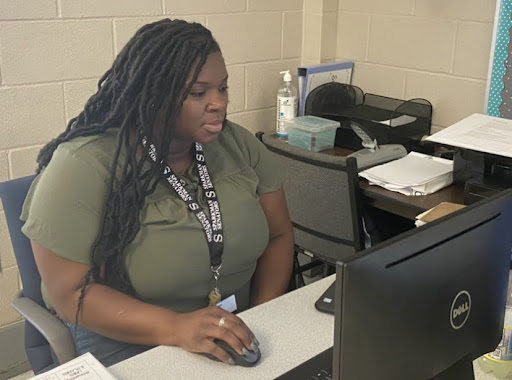 Photo Credit: Emma Headrick
New Math Teacher Talks About Big Changes
The clock reads 10:10 a.m. as students begin to pour into room 212. The teacher, Mrs. Annalisa Henderson, greets each student with an air of nonchalance, despite the ball of nerves settling in her chest. As each new face passes, the class size grows, and the overwhelming fear that Mrs. Henderson has been harboring since she first accepted this position worsens. Sparkman High School is a big school and Mrs. Henderson is about to navigate it like a captain navigates the sea. 
Henderson started teaching at Sparkman this year and it has been a big adjustment compared to the school she previously taught at. Paul W. Bryant High School, located in Tuscaloosa, Alabama, had a graduating class of about 200 students this past year. This is a stark contrast compared to the almost 540 students who walked across the stage last year at the Von Braun Center. 
"I am still adjusting and getting used to the bigger class sizes," Henderson said. "I am embracing the changes and getting out of my comfort zone."
Moving from Tuscaloosa to Huntsville has also been a very big adjustment for Henderson. The 156-mile trek brought many challenges, specifically concerning the ever-present pandemic looming over the world's head. Moving across the state during COVID awoke many emotions in Henderson but fear prevailed over all else. Thankfully, Henderson had one thing she knew she could rely on no matter where she found herself in the southeast: Southern hospitality. 
"My favorite part about living in Alabama is the southern hospitality," Henderson said. "There's also a lot to do and explore in certain cities. I try to do something different every day, sightseeing and learning the area."
When Henderson feels especially homesick, she always has one thing she can count on, no matter where she finds herself in the Tennessee Valley. Teaching has always come naturally to Henderson ever since she started her career nine years ago. When all else fails, all she has to do is pick up a dry erase marker and start working out equations on her whiteboard and everything is okay again. 
"Seeing all of the students and faculty and staff coming in on the first day was overwhelming until I started talking and getting to know people," Henderson said. "I started teaching my lesson and being in my zone and then everything felt natural."
This year is one for the history books, especially for someone going through an overwhelming transitional period like Henderson. For the first time in almost two years, Sparkman is at full capacity. It would be a challenge for most people but Henderson welcomes it with open arms and hopeful visions for the new school year.