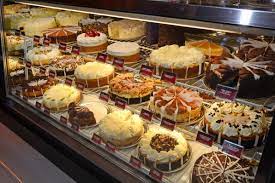 Photo Credit: McKy
Cheesecake Factory Finally Arrives in Huntsville
After a long wait, The Cheesecake Factory has finally been brought to Huntsville. The trip to Birmingham is no longer needed, just head to Bridge Street.
The recent opening has brought a line of customers waiting to try their various entrees and appetizers. Their desert is of course all the rage. With over 30 flavors to try, there is something for everyone.
It was surprisingly not too crowded and the wait was not long. You can dine in, as they are at full capacity or order it to go. They sit you down and give you a basket of bread. I ordered a raspberry lemonade to drink. The glass had some sugar along the rim. The lemonade was perfect, not too sweet, not too sour.
There are a large number of entrees from salad to flatbread. On the weekends, they offer a brunch menu with things like omelettes and waffles. They even have a menu with just healthy options.
I ordered from the healthy menu and got the Asian chicken lettuce wrap tacos. It comes with three tacos and two sauces to dip them in. The sauces were spicy peanut and cashew sauce. The sauces added a lot of flavor and made my mouth water. The tacos were filled with things like carrots, cucumbers, rice noodles and more. They were very crunchy and I ate every bite.
It was very hard to pick just one cheesecake flavor but I went with the coconut cream pie. It was very smooth and they captured the coconut flavor perfectly. I have had the red velvet cheesecake before and recommend that for a more plain option.
The only bad thing about The Cheesecake Factory is a little more on the expensive side. In my opinion, the food is worth the cost. It was really nice inside the building and would be a great place to have a meal with friends.