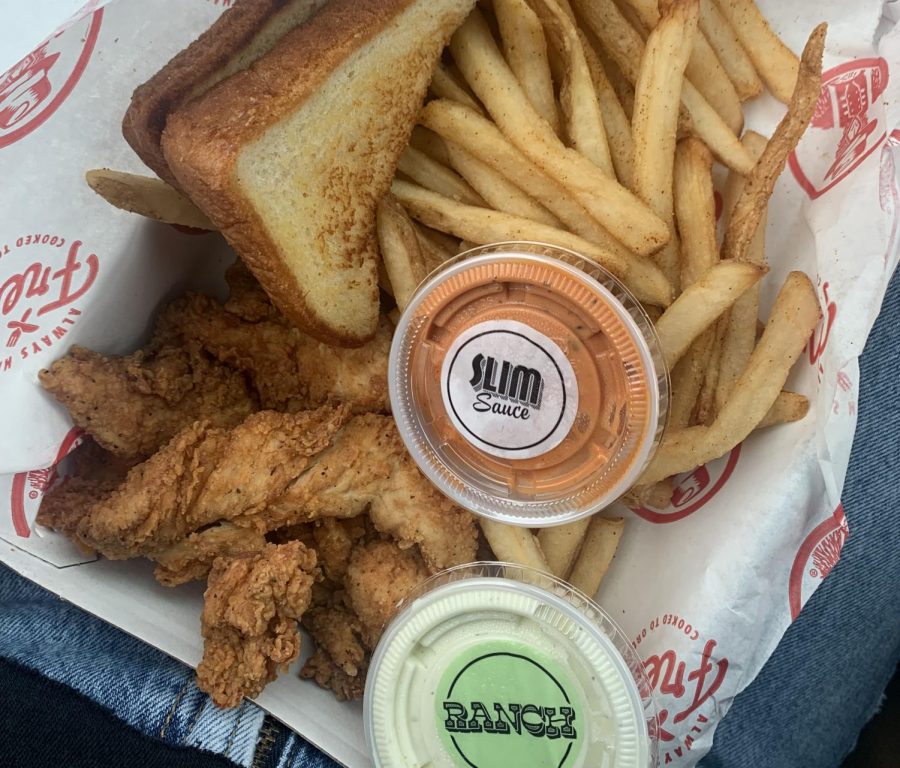 Photo Credit: Katrina
Restaurant Gets Saucey With Their Chicken
November 3, 2021
Located in Clift Farms on HWY 72, a new arrival of a restaurant named Slim Chickens came to Madison. With this new addition came new customers lining up to try their delicious chicken entrees, unique dessert options and classic southern sides.
Slim Chickens was founded in Fayetteville, Arkansas in 2003. They have more than 125 open locations across the United States, Kuwait, and the United Kingdom and three of the locations can be found in Madison and Huntsville. The Slim Chickens menu includes chicken sandwiches, wraps, tenders and wings, salads and chicken and waffles but what makes them differ from surrounding fast food restaurants are their sides, sweets and sauces. They feature 17 house-made dipping sauces that pair well with their hand breaded tenders and classic southern sides that most fast food places do not have. What I found so unique about this establishment is their desserts and its packaging. Apart from cookies and milkshakes, Slim Chickens offers dessert jars filled with an assortment of goods ranging from chocolate brownies to cheesecakes. And after consuming the deliciously filled jar, they allow customers to take the jars home.
This past weekend, I was able to go to the restaurant and try out their items. I was not able to dine in due to the amount of people in the restaurant but it was a great experience getting my meal through the drive thru nonetheless. Looking at the menu, there were several options that sounded and looked great but I ended up ordering the "Chick's Meal," which consisted of a side, I chose fries, three chicken tenders, Texas toast and a drink. I chose their raspberry tea. I also ordered their chocolate brownie pudding jar dessert and their Slim Sauce.
First, I took a sip of their tea and it was a refreshingly great combination of sweet and tangy. Next, I tried the Slim Sauce as well as the french fries. Their fries had this seasoning blend that tasted similar to cajun seasoning and it paired well with the sauce, which tasted like ketchup but up a notch with notes of pepper and spices. Moving on, I ate their crispy tenders and their Texas toast. Both were great and enjoyable but had nothing special to them. I then finished off with the dessert jar, which did not disappoint. I personally like all things chocolate and this hit the spot as it consisted of chocolate brownies, chocolate pudding and Heath bars but between the layers, they added whipped cream, which helped cut out the overwhelming amount of chocolate in the jar.
Slim Chickens is a perfect addition to Cliff Farms as it provides a new menu with a variety of food items that are the reason for their long lines of people and cars. When looking for a place that serves classic comfort foods and items that allow for adventuring outside your comfort zone, this is the place to go.