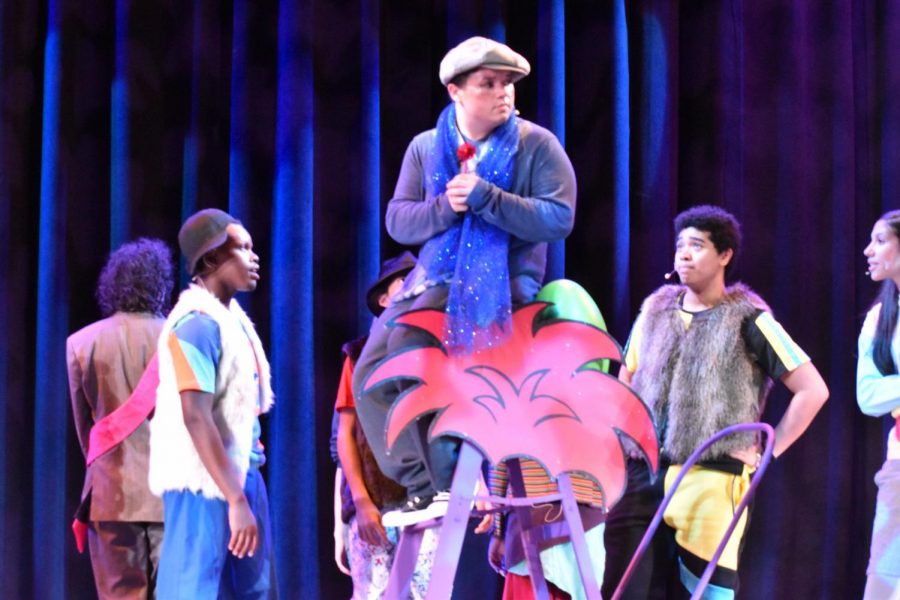 Photo Credit: Me
Students Make Seussical Look Fun
Vibrant lights, electrifying music and lessons about speaking up for yourself and never changing who you are for anyone, this is Seussical the Musical.
Coming into the theatre, I was expecting some whimsical, over the top design and dialogue that would bore me to death. However, I was pleasantly surprised as soon as the lights dimmed and senior Matthew Brown (Cat in the Hat) stepped onto the stage.
There was never a dull moment in the musical, but it was not too exciting to drain me. The choreography.The songs. I wanted to see myself up there.
Everyone had a part in the performance, no role was insanely more important than another. Brown embodied the zany character as his own personality clashed with the Cat as well. Senior Jonathan Lee (Horton) executed the shy and mellow energy of Horton perfectly as he continued to protect "that little speck of dust" and senior Karadyn Lewis (Sour Kangaroo) absorbed the perfect attitude and spunk for her character. And let me give a shout to all of the dancers. They did more flips and turns in 45 minutes than I could in five years.
Through all of the silly moments and songs, the biggest lesson to learn was that a person's a person no matter how small, which was represented exactly in this performance.