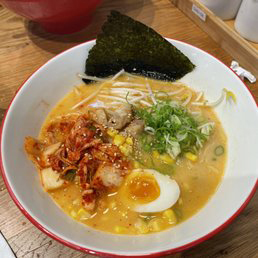 Photo Credit: Kendall Cope
Kamado Ramen Gives Instant Ramen A New Taste
Kamado Ramen is a delicious new arrival to Rocket City. The restaurant has two locations, one being in Stovehouse and the other in Midcity. Although the prices pack a punch, the dishes are full of flavor.
Instant Ramen is a guaranteed staple in most American households, however, after tasting this meal, customers will never crave that college dish again.
The restaurant specializes in Japanese Ramen starring 10 different flavors including customer favorites, Miso Ramen and Curry Ramen. The restaurant is open from 11 a.m.-3 p.m. for lunch and opens again for dinner from 4 p.m.-9 p.m. on weekdays except for closing an hour later on Friday nights.
I had the chance to visit the Midcity location and after much thought, I ordered the Spicy Miso Ramen for $14.50. Ultimately, I made the decision because of my love for all things spicy, and I was not disappointed. The Spicy Miso Ramen is ideal for those who cannot get enough of the spicy flavor. I also got to sample the Curry Ramen and the Chicken Ramen. Overall, all of the Ramen flavors are super delicious and there is no way to go wrong ordering any of the flavors.
I would definitely say my favorite was the Curry Ramen, and I completely see why it is a customer favorite. The $14.50 Curry Ramen has clear chicken broth, egg chicken noodle, curry chicken, bean sprouts, potato, carrot, soft boiled egg and a mint leaf for the perfect combination of spicy and savory. This dish is the perfect addition to any family or date night.
Not only does Kamado Ramen feature several delicious flavors, but the atmosphere provides customers with a unique experience as well. The Midcity restaurant has plenty of seating including outside and inside with tables big enough for all parties. My favorite aspects are a vibrant sign with the saying, "You make miso happy" for a hilarious pun, and an eccentric chair outside to make for a perfect photo.
Make sure to put Kamado Ramen on your restaurant bucket list for a brand new Huntsville dining experience.