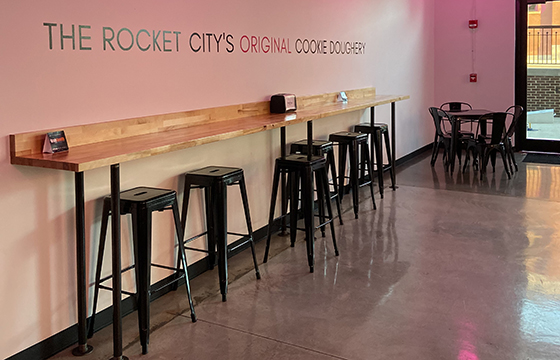 Photo Credit: Kendall Cope
Rocket City's Cookie Magic Makes Cookie Dough Safe For All
A brand new dessert has just been introduced to Huntsville. As a child, or adult rather, we love to eat the cookie dough left on the spoon after baking some cookies despite the salmonella warnings. Fear not, Cookie Dough Magic serves this treat like ice cream without the risk of salmonella.
The cookie dough is made using pasteurized egg whites, real butter, and heat-treated flour which gives it a more airy texture than the usual raw cookie dough. The pasteurization of the egg whites and the heat-treated flour make the cookie dough perfectly safe to eat.
There are 12 flavors along with a monthly flavor. The featured flavor of the month is "Chocolate Cake Batter." I got the "mini triple" in a cup which comes with three mini sized scoops of three flavors of your choice. I tried "brownie batter," "magic unicorn" and "magic chocolate chip" for $6. Cookie Dough Magic also features milkshakes, push pops and sundaes. I tasted the "Java Chip" milkshake, which has a coffee flavor to it. The milkshake had a wonderful creamy consistency if you want to expand your horizons from the cookie dough.
When you first order the cookie dough, you think that it will have the same filling feeling as ice cream, but let me tell you it is quite different. The cookie dough is more dense and rich, so make sure you start with a small scoop before you realize you can't finish it.
Out of the three flavors I tried, I would have to say the "magic unicorn" was my favorite flavor. The workers said that the "magic unicorn" was one of their most popular flavors and I can see why. This cookie dough is sugar cookie that has a red velvet flavor topped with sprinkles. The "magic chocolate chip" was pretty scrumptious as well, but it did not have the amount of flavor I was looking for. The "brownie batter" is perfect for extreme chocolate lovers, but I do not think I would get this flavor again for myself.
Not only was the cookie dough good, but the restaurant has an exotic atmosphere. It has low lighting along with fluorescent purple lights that add a retro vibe. They have a pink couch as well where you can sit and enjoy your treats under the Cookie Dough Magic sign for photo ops.