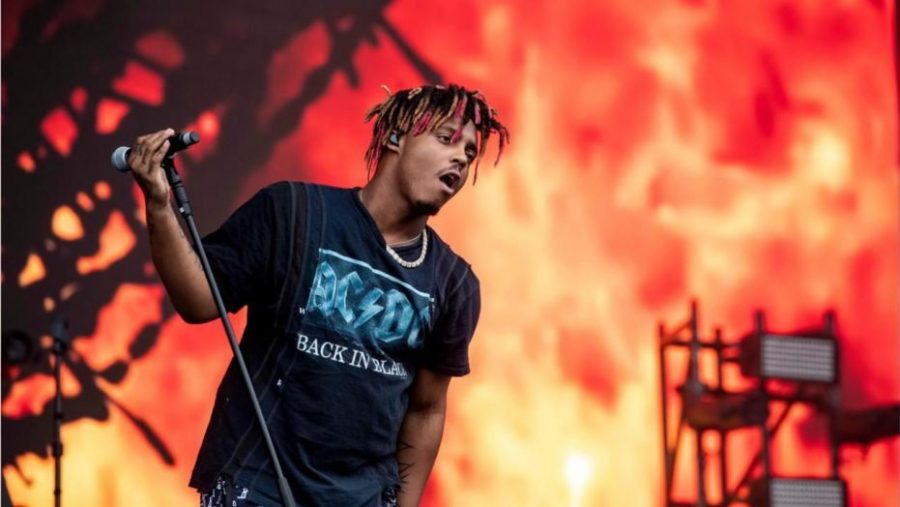 Printed With Permission
Jarad Anthony Higgins, better known by 10's of millions of fans across the world as Juice WRLD was pronounced dead on Dec. 8th, 2019,  just six days after his 21st birthday, due to a drug induced seizure.
Higgins was on the forefront of melodic stardom in 2019 with his unique style and versatility that often found itself detailing his struggles with depression and drug use . Between the start of his rise to fame to the day he passed (just slightly under two years), Juice amassed 25 top 100 songs, including those he featured in. With his music being an escape point for many people struggling to cope with their own emotions with tracks such as 'All Girls Are The Same' and 'Candles' or even a way to create a hype aura with tracks like 'No Bystanders' and 'On God'.
Even in the short amount of time the world was able to experience the potential that Higgins brought on every song, he still took his chances and gained commercial success across the globe. Higgins was taken on his first ever world tour with Nicki Minaj that extended from Feb.- March of 2019.
Higgins would drop his first studio album, 'Goodbye & Good Riddance' on May 23rd, 2018 and would be his platform to officially make his name for himself in the mainstream. The album would peak number 4 on the US Top 100 billboard and be home to Higgins most popular piece 'Lucid Dreams', which peaked as the number 2 song in the United States in 2018.
However success didn't fall into the Chicago natives lap. Higgins, before being widely known as Juice WRLD, went by the persona of JuiceTheKidd where he was releasing tracks on the underground rap scene in Chicago, Illinois, trying to gain traction via his soundcloud following.
After gaining momentum in the industry, Higgins would collaborate with hip-hop veteran Future on the joint mixtape titled 'WRLD On Drugs', an obvious play on the late rappers stage name, which was released October 19th, 2018. The mixtape produced 16 songs, including high end features such as Gunna, Young Thug and Lil Wayne among others. Despite not pulling the best rating, the project debuted at number 2 on the Billboard top 200, pulling 98,052 in first week sales and 123,391,207 first week total streams.
Following this Album, Higgins would take his time with his craft up until March 8th, 2019. This date proved a pivotal point in the young artists career. Higgins second studio album titled 'Death Race For Love' would be the first, and last number one album he would be alive to see. The story and production of the album attracted the attention of several different genres and became a hub for diversity and was Higgins staple in the 'Emo Rap' genre.
'Death Race For Love' would top the charts as one of the most successful projects in 2019, debuting at number 1 and having first week numbers of 165,000 sales and a whopping 206,250,000 streams, nearly double the pull of his studio debut.
With all the potential in the world, a $3 Million record deal and the support of millions through the globe, Juice WRLD was set up for one of the biggest music careers of the next decade. Falling short of the next decade however, fans must look to Higgins label, Interscope Records, to release the remainder of his projects throughout the coming years so that his voice can be taken to create positive environments as he once strove for.
Dec. 8, 2019 the music world paused and a moment of silence was held for the deceased and his family. The industry lost an award winning, multi platinum winning artist to a scary form of depression, drug abuse. One overnight flight, just a few hours and a couple of pills would spell the end of a worldwide phenomenon, leaving his ever growing legacy behind for future generations to enjoy.
Rest In Peace Jarad Anthony Higgins, Rest In Peace Juice WRLD.