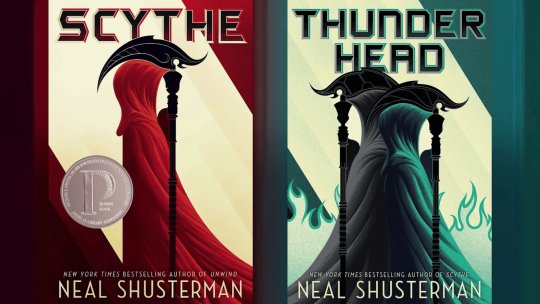 Book Leaves Reader With Much To Think About
February 27, 2019
Scythe is a dystopian book set in 2041 where the human population is immortal and all manners of injury and illness can be cured in a matter of days. Thanks to an all knowing artificial intelligence called "the Thundercloud" humans have conquered war, poverty, racism, and death itself.
To prevent overpopulation an organization completely above the Thundercloud was created. The Sythedom. Allowing Scythes to have have the power to glean (permanently kill) without interference. Although Scythes are above the law they are commended to abide by the 10 Scythe commandments. Scythes are not permitted to have spouses or children, they are not allowed to own any earthly possessions other than their robes, their immunity-granting rings, and their tools of destruction. Scythes must meet a quota of death each year. No Scythe can glean any other Scythe; but a Scythe may self-glean, whenever he or she chooses.
Scythe follows two Mimerican teens Citra Terranova and Rowan Damisch, who are chosen by Honorable Scythe Faraday to be his apprentices and to compete to be a ordained taker of lives. Scythe Faraday teaches Citra and Rowan about how important compassion is and why they should never enjoy taking a life of another person. Scythe Faraday has a strict code of morality and empathy when it comes to his gleanings which I admire most in this novel.
Unfortunately not all Scythes are like Scythe Faraday. Some Scythes kill because they like to which could be the tragic pitfalls of the Sythedom.
Progressing through the novel the two apprentices find themselves separated due to a horrific event and have to fight against each other to become an ordained Scythe.
I enjoyed the complexity of this novel. There are many important messages and points in this novel but what stuck with me the most was importance of compassion and empathy and how it's what makes us human. This novel has been one of my favorite reads and I strongly recommend it.